Emergency Roof Repair Tarp in Bay County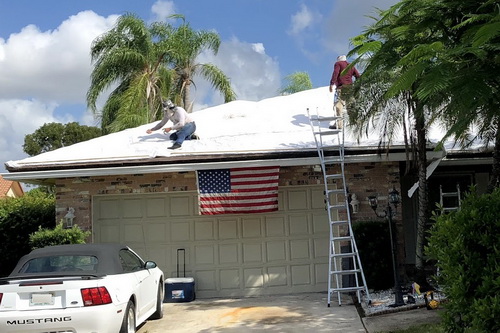 Everyone living in Bay County understands that dealing with tropical storms and full-blown hurricanes is the price they have to pay for living in such a wonderful piece of paradise. It's worth it to have ninety-five percent spectacular to deal with the five percent of scary and dangerous weather. With that being said, tropical storms and hurricanes can be very dangerous and do a number on our homes, including the roofs. As soon as it is safe, you should inspect the roof for damage. Missing shingles or tile can go unnoticed until the water starts leaking into the house. At this point, there will be much more damage than just the roof. There could be compromised roof trusses and even mold. These are costly damages and usually, the residents need to move out during the repairs and remediation process. RestoPro770 offers emergency roof tarping in Bay County.
Bay County Tarp Installation Services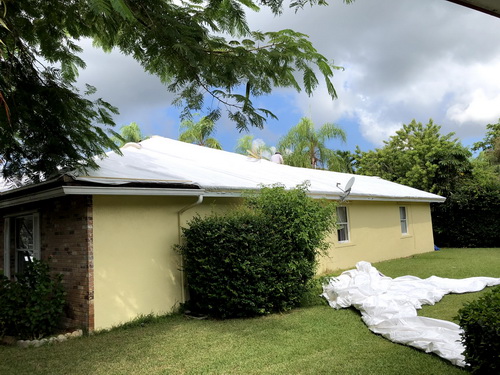 Even the typical, everyday storms that the area experiences during the rainy season can cause damage to the home and yard. Wind gusts can occur without notice causing tree branches and other loose objects to fly about. These objects, especially the tree limbs can damage the roof. Falling limbs can put holes in roofs which is a huge problem for the homeowner. This damage must be handled as soon as possible. Mitigating further damage is a requirement of all homeowners' insurance companies. Ignoring the problem will result in the homeowner paying for all of the repairs. RestoPro770 provides temporary roof leaking repairs in Panama City and the surrounding areas.
Waterproof Roof Tarps in Panama City
Many people take good care of their lawns and flower gardens; however, they fail to consider that trees near a home need to be cared for too. Hanging branches can rub against the roof and damage shingles. Unhealthy or dead trees can fall over in a gust of wind. If damage happens, you'll need to get help right away. RestoPro770 is available for emergency tarp installation in Panama City and the surrounding areas.
Panama City Roof Tarping Services
RestoPro770 is aware of the need for immediate response when a homeowner's roof sustains damage. They offer emergency roof repair tarps, hurricane damage assistance and boardup services in Panama City and the surrounding areas. Call 888-466-0770 anytime you need an emergency roof repair tarp in Bay County.
Quote Request