Shrink Wrap Roof Services in Venice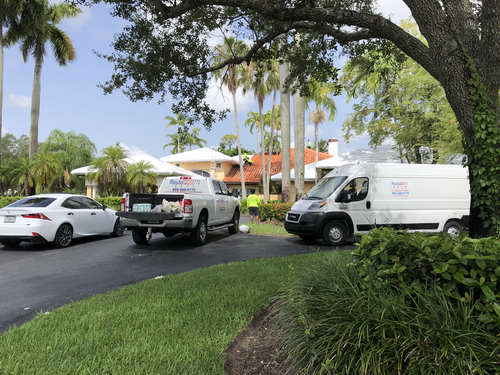 Venice, Florida features a low crime rate and has been rated as the second most liveable city in Florida by the U.S. Chamber of Commerce. The living cost is around the national average and the job market is very strong so it's affordable for most people. There are easily accessible beaches that are calm, clean, and beautiful year round. Mixed with the great climate, Venice's beaches are perfect to visit year round.
Shrink Wrap Roof Damage in Sarasota County
RestoPro770 provides roof shrink wrapping services in Sarasota County. They'll work quickly to make sure that your home is safe from further water damage as soon as possible. They'll stick to their strict procedures to make sure that they provide the best shrink wrapping possible. RestoPro770 works with an eye for detail to make sure that your shrink wrap was installed properly so that your home is as safe from further water damage as they can make it. RestoPro770 works with high quality materials and the best equipment they can get their hands on so they can properly shrink wrap your roof. RestoPro770 is always a great choice whenever you need shrink wrapping services all throughout Florida.
Emergency Roof Shrink Wrap in Venice
RestoPro770 provides roof shrink wrapping state wide so you always have access to their services. They're available 24/7, you can always request their services and they'll deliver as soon as possible. RestoPro770, Inc. is an IICRC certified company and an active member of the Restoration Association of Florida. You can call their customer service to ask any questions that you may have about their services and they'll answer them to the best of their ability. You can ask about pricing, scheduling, or anything you can think of. RestoPro770 wants you to know what's part of the services that you are requesting.
Roof Shrink Wrap Installation in Venice
Call RestoPro770 at 888-466-0770 for your roof shrink wrapping installation needs in Venice Florida. They operate all throughout Florida and provide additional services like emergency boardup, water damage, and leak detection.
Quote Request