Shrink Wrap Roof Services in Fort Myers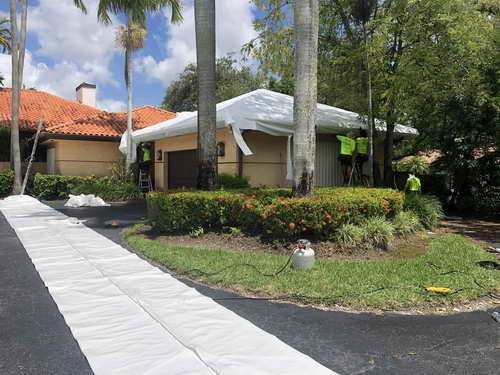 Fort Myers has many benefits for its citizens. The cost of living is low, so it's good for people on a budget. The job market is growing and there are good schools near and around Fort Myers. It's great for younger families and college students because of its low cost of living, as well as the good colleges nearby.
Roof Shrink Wrap Installation in Lee County
RestoPro770 provides shrink wrapping installation in Lee County. They'll always take extra care to make sure that your shrink wrap is applied properly so that you're as safe as possible from even more water damage. RestoPro770 will work quickly so that they can get out of your hair as fast as possible so you can go back to your regular living circumstances without worrying about any more leaks. RestoPro770 uses high quality tarps and equipment to make sure that you get all the time out of your tarp that you need. RestoPro770 will work tirelessly to provide you with the highest quality services and products possible.
Emergency Roof Shrink Wrap in Fort Myers
RestoPro770 is an extremely reliable choice whenever you need emergency shrink wrapping as soon as possible. They work at a fast pace so you can relax in your home again as soon as possible. They can help prevent further water damage from occurring in your home for a decent period of time so you can choose a permanent solution at your own leisure in the time frame the shrink wrapping provides. RestoPro770 will always make sure that their shrink wrapping is applied properly so that you can rest easy knowing that your home is safe from the threat of further water damage. RestoPro770 always tries to provide the best service possible.
Shrink Wrap Roof Damage in Fort Myers
Call RestoPro770 at 888-466-0770 for all of your shrink wrapping needs in Fort Myers. They also provide additional services like mold damage, attic insulation removal, and odor removal services. They operate across the whole state of Florida.
Quote Request