Mold Recovery in Fort Lauderdale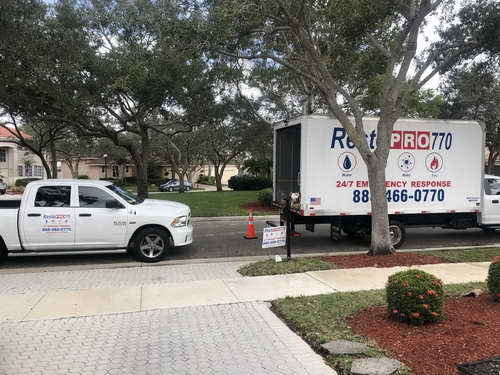 Mold recovery in Fort Lauderdale is a part of the process of mold removal and remediation. When there is mold present in your home, there are specific steps that must be taken to ensure the home is safe for you and your family. Mold recovery and removal needs to be professionally handled as there are specialized training and equipment that is required to properly remove and clean a mold infestation. There are many dangers of having a mold infestation in your home, not only to your health and well-being but also to the home itself. If the proper steps in mold recovery and remediation are not taken you could have continued growth and more damage later.
Mold Inspection in Fort Lauderdale
When there is any reason that you suspect mold in your home, you should not try to look for it or disturb anything around where you think it could be growing. Disturbing the spores can cause mold to spread to other areas and the spores can be come airborne and create health risks. This is the time that you will want to call for a mold inspection in Fort Lauderdale. Scheduling a professional mold inspection will find the infestation, assess the extent of it, create a plan with you to remedy the mold situation professionally and properly.
Mold Remediation in Fort Lauderdale
When you have found that you have a mold infestation, then you will need mold remediation in Fort Lauderdale. Mold is not something that should be dealt with on your own. It is a very specific process to remediate a mold infestation to ensure that it does not spread, and all infested areas are properly cleaned. Mold can be very serious; for you and your family's health as well as damages that can be caused in your home. Hiring a professional mold remediation company is the wisest option, as they have the training and equipment required for this type of issue.
Mold Damage in Broward County
If you suspect mold damage in Broward County, you will want to contact a professional mold company. Ensuring a professional company has the training and equipment to properly and safely remedy mold damage is your number one priority. Mold damage is not something that a homeowner should ever tackle themselves. There are very specialized processes and equipment as well as training required to ensure proper removal and cleaning as well as repair and restoration as needed. This gives you assurance and peace of mind that your home and family are safe and taken care of properly.
RestoPro770 is your one-stop company for mold inspection and recovery in Fort Lauderdale and throughout whole Florida. Contact our knowledgeable staff today to discuss your needs and schedule an appointment, 888-466-0770. Our professionally trained techs will be there to help you every step of the way. You may also visit our website for mold and water damage information, a full list of services, and all of our locations.
RestoPro770, Inc. is an IICRC certified company and an active member of Restoration Association of Florida.
Quote Request