Roof Tarp Services in Cape Coral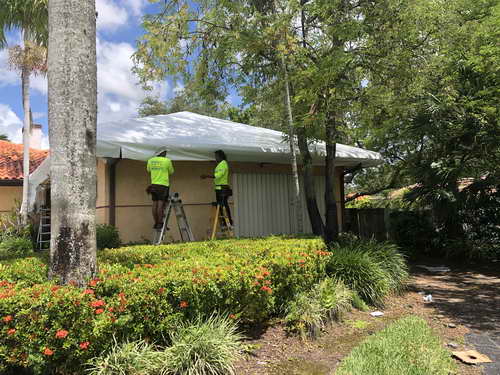 Cape Coral is a great place to live in if you enjoy the beach. The weather is great, consistently sunny with clear skies; which means it's always perfect for outdoor activities. There are many options for waterfront living and many locations that are perfect for fishing or boating of any kind. The employment rate is high and there are great schools all around. There are numerous locations that are perfect for nature lovers.
Roof Tarp Installation in Lee County
RestoPro770 provides roof tarp installations in Lee County. They're dedicated to making sure that they provide the best service possible and making sure that you're satisfied with their services. They'll always make sure that they have properly implemented your tarp so that your home is safe from further water damage for the longest period possible. You can rest easy knowing that your home is safe from any further water damage, and that you have time to decide on more permanent repairs to your home. RestoPro770 is a reliable option whenever you need tarp installation, they will always work their hardest to make sure that your tarp is implemented as soon as possible and implemented properly.
Emergency Roof Tarping in Cape Coral
RestoPro77- is renowned for their great work ethic and high quality services. They always work as quickly as possible without sacrificing quality to make sure that you receive a high quality final product in the shortest amount of time possible. You can always ask RestoPro770's customer support any questions you may have about any of their services, such as price or scheduling concerns. RestoPro770 has 24/7 availability with fast response times, so no matter when you need it, you can always reach them about their services. RestoPro770, Inc. is an IICRC certified company and an active member of the Restoration Association of Florida. RestoPro770 uses state of the art equipment and high quality materials to ensure that their final product holds up to the highest standard.
Roof Tarp for Leaking Roofs in Cape Coral
Call RestoPro770 at 888-466-0770 for all of your roof tarping needs in Cape Coral. They also provide water damage remediation, mold damage remediation, and leak detection. RestoPro770 also operates statewide across Florida.
Quote Request