Shrink Wrap Roof in North Port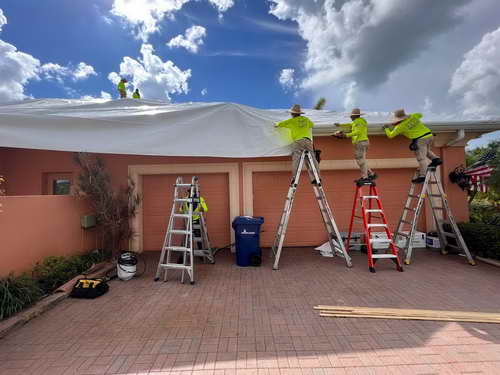 If you need shrink wrap for leaking roofs in North Port, RestoPro770 can help with this and many other leaking water and roof issues. Installing a roof shrink wrap is a quick way to waterproof a roof to reduce further damages and health issues from becoming another concern. We will walk with you through every step of the installation, explaining the process, the benefits, and limits of a shrink-wrapped roof. Our professional staff can also assist in other areas such as repair quotes and damage assessments and repair plan of action. Your safety and satisfaction are our utmost priority.
Roof Covering Services in North Port
A shrink wrap roof installation in North Port differs from a tarp in the obvious ways that it fits tighter and works well with different heights or galleys. The installation is very much as it sounds, the material is stretched to fit and then heated to shrink for a very tight seal. This makes it more long term than a tarp and works well with all roofs, but especially with uniquely designed roofs. Once a roof is shrink wrapped, it can be left on while other repairs are completed or while you are waiting for an insurance settlement.
Roof Shrink Wrap Installation in Sarasota County
Shrink wrap roof services in Sarasota County can offer you protection when you have roof damage but cannot get to repair it quickly. Shrink wrap is a perfect option for oddly shaped roofs, or for longer term use. It will give you peace of mind that water stays out and does not create further damages or cause mold to begin growing. Beware of shady contractors during high storm times, a shrink wrap must be installed by a professional trained and experienced in this type of installation.
Emergency Roof Shrink Wrap in North Port
If you need any type of water damage services in North Port or Sarasota County and surrounding areas, please call RestoPro770 at 888-466-0770. We offer the following services: leak detection, water damage, roof tarp, shrink wrap, board up, odor removal, ac leaks, broken pipes, flood damage, water damage, mold damage, and fire damage. We recommend that you always use a professional for any water type damages, due to health and safety issues.
Quote Request