Shrink Wrap Roof Services in Estero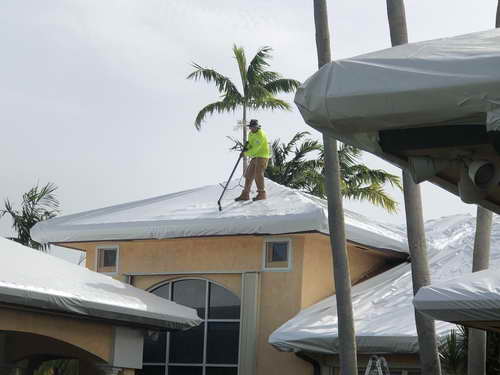 Estero offers advantages to those who choose to settle there. The schools are above average and the crime rate is low which means it's a great place for a family. The cost of living is around the national average so it's affordable for most. There's tons of places for any nature lovers to go and experience nature in, they're perfect for camping, bird watching and hiking, they're great for whatever you use them for.
Roof Shrink Wrap Installation in Lee County
RestoPro770 provides roof shrink wrapping in Lee County and all throughout Florida. They work with an eye for detail to make sure that your shrink wrap is applied properly to provide you with the most protection possible. They use high quality materials and the latest technology to make sure that you're as protected from the elements as possible. RestoPro770's shrink wrapping will last long enough for you to be able to choose a more permanent solution to your roof damage at your own leisure. RestoPro770 will work quickly while still ensuring that your shrink wrap is applied properly to make sure that you're getting the protection that you deserve as soon as you need it.
Emergency Roof Shrink Wrap in Estero
RestoPro770 is a great option for any roof shrink wrapping services that you may need. They are available 24/7 so that you can always contact them and request their services. They'll respond quickly to make sure that your home is safe and sound from further water damage. RestoPro770, Inc. is an IICRC certified company and an active member of the Restoration Association of Florida. You can ask RestoPro770's customer service any questions you may have about their services to make sure that you're fully in the know about the services they'll deliver. You can ask about pricing, scheduling, or any other matter related to the service you need.
Shrink Wrap Roof Damage in Estero
Call RestoPro770 at 888-466-0770 for all of your shrink wrapping needs all throughout Florida. RestoPro770 offers many services state-wide, for example, water damage mitigation, emergency boardup, and leak detection services.
Quote Request