Shrink Wrap Roof in Boca Grande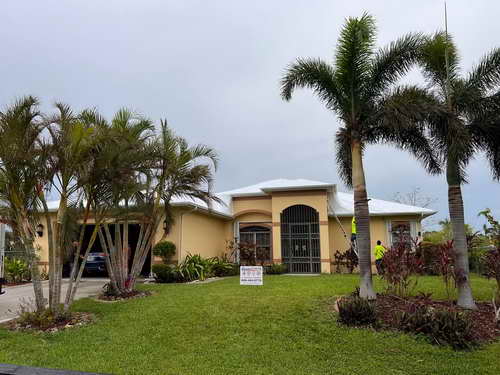 When it comes to protecting your property from the harsh elements, especially in areas like Boca Grande, a reliable roof shrink wrap installation is essential. If you want the job done right, it's crucial to hire the professionals who have the expertise and experience in this specialized field. Expert roof shrink wrap installation in Boca Grande ensures that your roof receives the utmost care and attention, resulting in a durable and long-lasting solution. These professionals possess in-depth knowledge of the materials, techniques, and safety protocols required for a successful installation. They have access to high-quality shrink wrap materials and cutting-edge equipment to ensure a precise and secure application. By entrusting your roof shrink wrap installation to the pros, you can have peace of mind knowing that your property is well-protected, and its value is preserved for years to come.
Roof Shrink Wrap Installation in Boca Grande
RestoPro770 provides leaking roof damage remediation in Boca Grande. They'll make sure your roof is tarped as fast as possible so as to reduce the damage from other sources as much as possible. RestoPro770 will also make sure that they apply the tarp properly and professionally so your roof doesn't suffer even more damage from leaks or storms or anything of the sort. They'll make sure that they fix up your home from the leaking roof and make it as good as new as quickly as possible.
Roof Covering Services in Lee County
RestoPro770 is well known in Lee County for their high quality services and how fast they provide these services. They will always make sure that you are happy with their services and that the services are as high quality as possible. They'll also make sure that your project is completed as quickly as possible so it doesn't interfere with your schedule and so that your house will be as good as new in no time. RestoPro770 will answer any and all questions you may have about their services.
Emergency Roof Shrink Wrap in Boca Grande
When you need to mitigate water an installation of shrink wrap roof damage in Boca Grande is a great option. Installing a roof shrink wrap is a job for professionals that are highly trained and experienced in the installation. There is also specialized equipment required to "shrink" the material installed, this ensures a very tight waterproof fit. It is a very risky installation to attempt as a do-it-yourself project. If not properly completed, you may not get reimbursed by your insurance company and you may end up with leaks that defeat the whole purpose of the shrink wrap being in place.
Call or text RestoPro770 at 888-466-0770 for all of your roof shrink wrapping services in Boca Grande. RestoPro770 also operates in Cape Coral, Fort Myers, Bonita Springs and also provides boardup, odor removal, and leak detection.
Quote Request