Roof Tarp Installation in Fort Myers Beach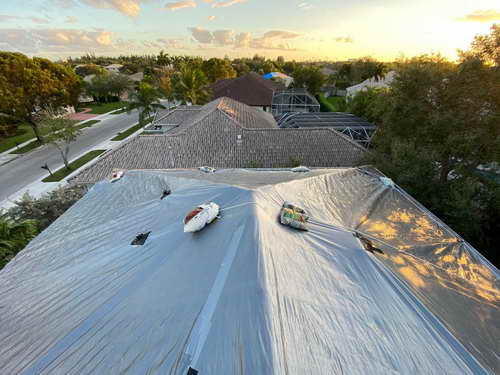 The first step to ensure a reduction in water damage from a leaking roof in Fort Myers Beach is to have a roof tarp installation. If you have a leaking roof, that cannot be immediately repaired or replaced, a tarp installation is a perfect solution. This will reduce further damage to the roof and interior damage from the water. This is not a job that you should attempt yourself; it should be completed by a professional to ensure proper installation and for your own safety. Roof tarping is an excellent way to reduce further damages to your home if it cannot be immediately repaired.
Roof Damage Tarp Services in Fort Myers Beach
Emergency roof tarp service is not something anyone really wants to think about. But if you are a homeowner or business owner with a brick-and-mortar structure, it is wise to consider these things before they occur. Having a researched vendor or contractor list for emergencies will give you peace of mind before you may need it and reduce stress if you do. Spending a small amount of time doing some research, asking family and friends about experiences they have had, and making a few phone calls before there is an urgent need can be a lifesaver.
Roof Tarp Services in Lee County
You are suddenly awoken in the night by a nasty storm. Then you hear the awful sound that no one ever wants to hear, water dripping. You get up to find the source and realize you have a leaking roof in an active storm. Terror strikes for a moment, until you remember that you planned ahead, and you have a short list of reputable companies for leaking roof tarp services in Lee County. You can breathe easier, because you know that you can contact a company such as RestoPro770 and trust that they have the experience and professionalism to take care of your needs.
Roof Covering Services in Fort Myers Beach
Roof water damage in Fort Myers Beach is not an uncommon thing. We live in a humid state that gets some crazy storms. What do you do when there is roof water damage? The key to reducing damages and costs as well as safety issues is to stop the roof leaks. Mitigation is the priority to reduce damages. It is something that needs to be completed by a professional service, at RestoPro770 we will treat you with respect and professionalism from the moment you contact us. It is our goal to ensure your safety and satisfaction.
If you need any type of water damage services in Fort Myers Beach or anywhere in Lee County and the surrounding areas, please call or text RestoPro770 at 888-466-0770. We offer the following services: leak detection, water damage, roof tarp, shrink wrap, board up, odor removal, ac leaks, broken pipes, flood damage, water damage, mold damage, and fire damage. We recommend that you always use a professional for any water type damages, due to health and safety issues.
Quote Request