Heavy Duty Silver Poly Roof Tarp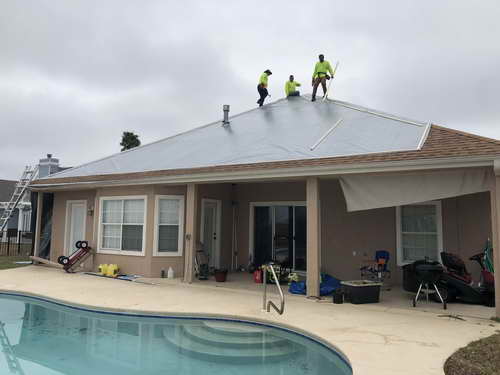 Designed to protect a property from rain, sunlight and extreme weather conditions, a roof is one of the most important components of a home. However, rough weather conditions, such as storms and hurricanes, can damage home structures, including the roof. Dealing with a damaged roof is a difficult job. It cannot be done without professional help.
Heavy Duty Roof Tarp Installation in Broward County
Home to exotic beaches and pleasant tropical weather, South Florida is a fantastic holiday destination. The beautiful sunny days and relaxing nights by the sea make this place loved by the residents as well as visitors. Amidst all the fun, South Florida experiences some of the worst hurricanes, which can damage roof shingles. When the shingles go missing, rainwater can easily find its way inside properties. The best way to deal with the post-hurricane damage is through roof tarping. RestoPro770 provides the best roof tarping services in Broward County.
Shrink Wrap Roof in Miami Dade County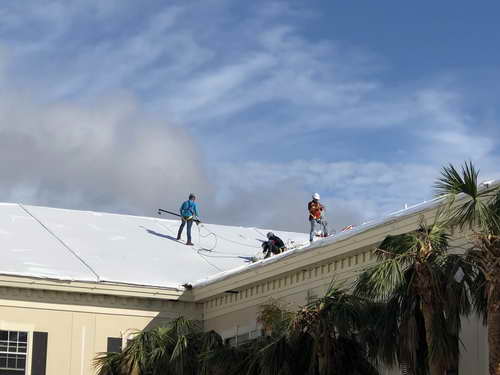 People who have experienced a storm or a hurricane are well aware of what it can do to the structure of homes, especially roofs. After the hurricane is over, the roof needs to be repaired to prevent leakages, which is not at all a good sign. Between the hurricane and the repair process, a temporary shrink wrapping can save the roof from further damage.
South Florida is one of the most amazing places in America. The tropical climate and the sandy beaches make it irresistible for the tourists. The place also offers several recreational activities for residents and tourists. However, there is a downside to this fun-filled place. This place experiences some of the worst hurricanes, which pose a huge threat to house structures and roofs. To deal with the post-hurricane damages, shrink wrapping the roof is a great option to consider. RestoPro770 provides excellent shrink wrapping services in Miami Dade County.
Shrink Wrap Roof in Palm Beach County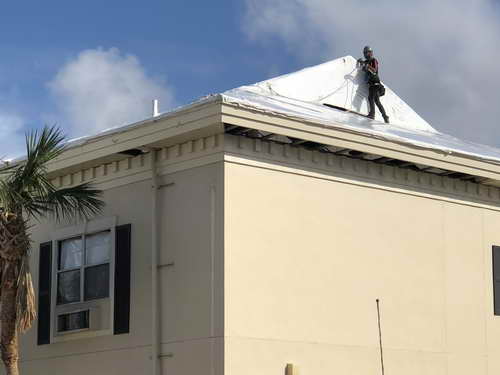 It's a fact that storms and hurricanes tend to damage infrastructure in a significant way. This includes roof damage in particular. After a hurricane, to protect a roof from further damage, shrink wrapping the roof is a quick and effective solution. Shrink wrapping a roof is no DIY job and therefore professional assistance is required.
Wouldn't it be totally amazing to find a place that offers the perfect blend of fun, food and recreation? Well, South Florida is the place that offers all of these things. Home to exotic beaches, wild parties and delicious cuisine, this place offers a great deal of fun activities for visitors and residents alike. Along with all the enjoyment, there is a constant threat of hurricanes and storms hovering over people.
This place experiences some of the worst hurricanes. The rough weather can damage the roofs of houses, which puts the houses as well as the people at risk. It takes time for help to arrive. To protect the roof from further damage, homeowners have no option other than contacting a professional shrink wrapping service provider like RestoPro770.
Shrink Wrap Roof in Broward County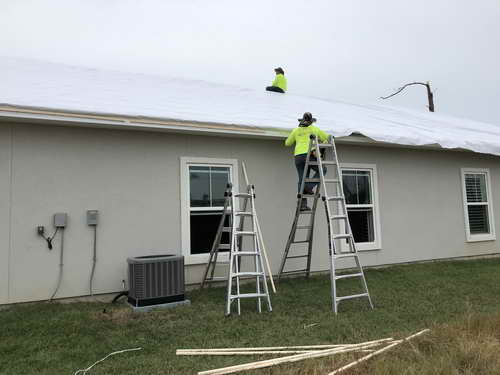 Extreme weather conditions like hurricanes tend to damage houses, especially roofs. In order to protect a roof from further damage before help comes, shrink wrapping is the perfect solution. Shrink wrapping a roof without expert assistance or using proper equipment is next to impossible. It is here that homeowners need to contact a professional shrink wrapping service provider.
South Florida is an amazing tourist destination. Home to exotic beaches and amazing water sports, it offers its visitors and residents many exciting recreational activities. The water sports, the night life and the delectable cuisine make South Florida immensely popular among visitors and residents alike. Amidst all the fun and enjoyment, there is always the threat of hurricanes haunting homeowners in South Florida. During the hurricane season, the weather can get pretty rough. The infrastructure as well as the roofing tiles of properties can get damaged due to the pressure of the wind. Once the hurricane hits, it can take time for the roofers to arrive. In order to protect the damaged roof from further damage, home owners need help from a professional shrink wrapping service provider like Restopro770.
Shrink Wrapped Roofs in Fort Lauderdale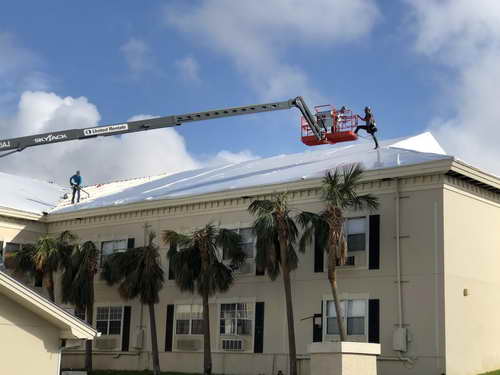 Fort Lauderdale is such an amazing city in which to live because there is so much to offer the residents. Let's face it! If it wasn't so awesome people wouldn't flock to the area each and every year in droves to get to experience what we get to live every day. From the clear blue water lapping at the soft sandy beaches and the exhilarating water sports to the lively nightclubs and delectable cuisine of the restaurants, South Florida has an awful lot to offer both residents and visitors. There is a downside that visitors rarely experience, but homeowners know is a threat, and that is hurricane season. It doesn't take a rocket scientist to know that during a hurricane the potential for roof damage is great. Shingles fly off and roof tiles crack and break with the force of the wind. This damage compromises the roof and causes further damage to the trusses and interior of the home. Every insurance company requires the homeowner to do all he can to mitigate the damage and find a way to prevent further damage. Some people opt for roof tarps, which are fine for short-term fixes, but there is a better solution. RestoPro770 offers shrink wrapping for roofs to eliminate the chance of further damage in Broward County.
Roof Leaking in Davie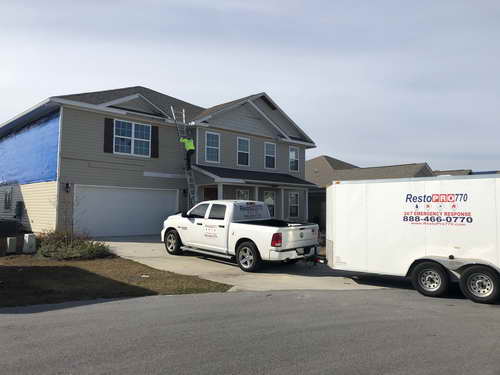 Most of the homeowners in South Florida do their very best to keep their homes looking nice and fresh. Everyone wants to have the curb appeal that draws people's eyes and makes them take notice of the lovely house and yard. It makes people feel good that others like the way they present their home to passersby. The one thing that homeowners don't even look at or give a thought to is the roof, and it's an important key to having a safe and attractive home. The roof keeps you and your possessions safe and also protects the framing of the roof and interior walls. Roof damage that is left unattended can create a host of bigger problems than the leak itself. Damage to the structural integrity of the trusses and mold growth are expensive to repair and remediate. It's best to call for help in temporarily repairing the damage. RestoPro770 offers emergency roof tarping in Davie.
Tarp Installation in Delray Beach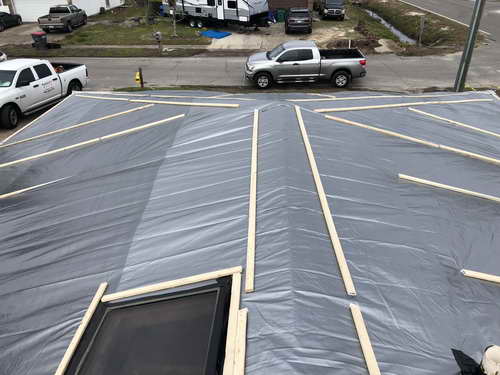 There are so many wonderful things that people have learned to count on in South Florida. The beautiful, sandy beaches with the blue water of the Atlantic lapping at its shore. The sun shining down and seemingly dancing across the ripples in the water. Gorgeous days and relaxing evenings are generally taken for granted because there are so many of them. Unfortunately, the downside to living in such a great place is the fact that the area experiences tropical systems. These systems could be minimal tropical storms, or hurricanes of varying strengths. Although any heavy wind gusts can damage the shingles of a home, tropical systems do so much more frequently. When shingles go missing, there is the potential for water to seep into the attic and ultimately, into the ceilings of the house. Water damage is nothing to ignore, as the humidity in South Florida is conducive for mold growth. The cost and stress involved with mold remediation services is tremendous, so it is imperative that the homeowners mitigate the damages by tarping the roof. RestoPro770 offers immediate roof tarping services in Delray Beach.
Waterproof Roof Tarps in Boynton Beach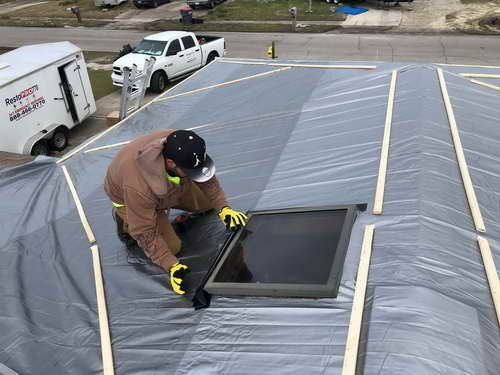 One of the things that very few homeowners in Boynton Beach worry about is the roof on top of their homes. People ask about the roof when they buy a house and as long is it isn't falling apart or leaking, they really never give it another thought. This is unfortunate as roofs do have a life expectancy. Some new roofs are warranted for ten, twenty, or even thirty years. Of course, a preowned home rarely comes with a roof warrantee. The truth is that either you or your handyman should take the time to look at the roof every year. You have to look for torn shingles, missing shingles, and soft spots. If you notice any problem, you'll need to get a company in to cover the roofing material with a waterproof tarp. This will prevent any rain from getting inside of the attic, and then inside of the living space of the home. An ounce of prevention is worth a pound of cure, they say. RestoPro770 offers tarp installation in Boynton Beach.
Shrink Wrapped Roofs in Boca Raton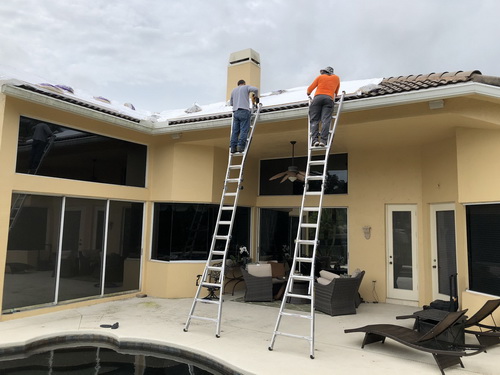 Although we all hope that each hurricane season will leave our homes and neighborhoods unscathed, the truth is that we are just as susceptible to a hurricane damaging our homes as any other homeowner in South Florida. Hurricanes aren't selective. They are random entities and once they have their sights set on an area, all you can do is wait and hope for the best. Unfortunately, keeping our fingers crossed doesn't always keep the hurricanes away. The reality is that you always need to keep an eye on the news and be prepared for the season, before the season starts. Of course, when a hurricane is heading this way, putting up the hurricane shutters and bringing in anything that could go flying is essential. Protecting everything possible from damage is beneficial; however, there isn't anything you can do to protect the roof from damage. All that can be done is hope for the best. RestoPro770 is available after storms for emergency hurricane damage services.
Emergency Roof Repair Tarp in Bay County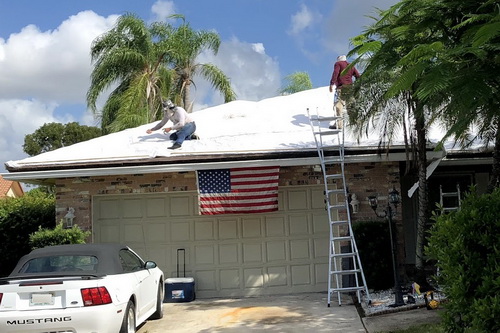 Everyone living in Bay County understands that dealing with tropical storms and full-blown hurricanes is the price they have to pay for living in such a wonderful piece of paradise. It's worth it to have ninety-five percent spectacular to deal with the five percent of scary and dangerous weather. With that being said, tropical storms and hurricanes can be very dangerous and do a number on our homes, including the roofs. As soon as it is safe, you should inspect the roof for damage. Missing shingles or tile can go unnoticed until the water starts leaking into the house. At this point, there will be much more damage than just the roof. There could be compromised roof trusses and even mold. These are costly damages and usually, the residents need to move out during the repairs and remediation process. RestoPro770 offers emergency roof tarping in Bay County.