Waterproof Roof Tarps in Parkland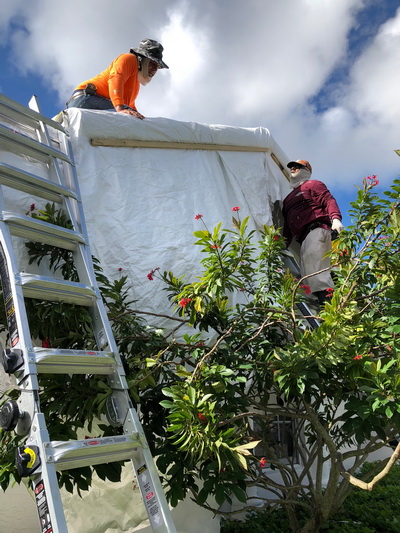 As homeowners, most pay close attention to how well manicured their lawns are, and make sure the creature comforts like air conditioning and the kitchen appliances are maintained properly. People see and use these things each and every day; however, the one big thing that we use every day and generally ignore is the roof of the house. It keeps us warm and dry and out of the elements. It protects out possessions and families. It's always there doing the job, until it becomes older and starts to show wear and tear from its age. At this point, many just try not to look at it because having a roof replaced can be quite expensive. Unfortunately, ignoring a problem doesn't make it go away. It makes the problem bigger when the homeowner has no choice but to address it. That's when they have to deal with hidden damage that has been going on for a period of time. The problem escalates and can quickly result in mold growing inside of the roof, trusses, attic, and the spores will be spewed throughout the house. Mold spores are airborne and wherever they settle will become mold infested. RestoPro770 offers emergency services for waterproof roof tarps in Weston and Parkland.
Roof Tarping Services in Weston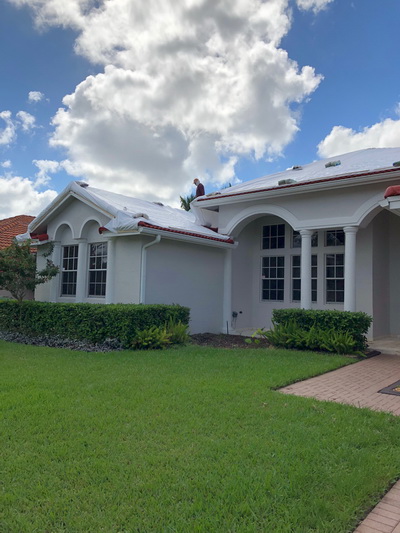 The clear majority of homeowners in South Florida do all that they can to ensure that their homes and yards are in pristine condition. A home is generally the largest investment a person will make in his or her life, so homeowners want to keep it looking neat, tidy, and attractive to passersby. They ensure their lawns are mowed and edged; trees and plants are trimmed and shaped; and the paint on the house is clean and fresh. Unfortunately, the one thing that very few homeowners pay any attention to is the roof. The roof is one of the most important aspects of the home itself, yet it often goes ignored until there is a problem with it. Although annual maintenance of the roof is tantamount for extending its life, all too many people fail to do it. For this reason, they are completely shocked when the go home to find water coming in through the ceiling. RestoPro770 offers emergency roof repair tarp services in Weston.
Roof Leaking in Palm Beach County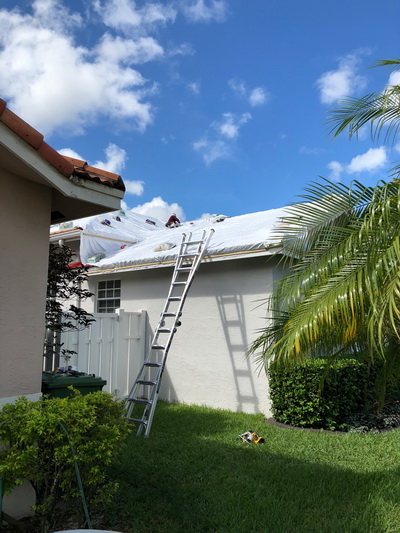 Those living in Boca Raton generally do so because they love having fun in the sun and enjoy every aspect of residing on the beautiful Atlantic Ocean. The water is a huge part of living in South Florida; however, when a roof starts leaking water into the home, that's a completely different ballgame. Most homeowners remember the approximate age of their appliances and recognize the signs when one of them is starting to show signs of age by not working quite as well as it did in the past. The one thing that the clear majority of homeowners never think about is the roof of the house. A roof is just like every other part of your home and does have a general life expectancy. This tends to be forgotten about until the homeowner realizes that the roof is leaking. In order to reduce further damage, it is essential that you hire a company to assist in temporary roof repair. RestoPro770 offers emergency tarp services in Boca Raton and the surrounding areas.
Tarp Installation in Broward County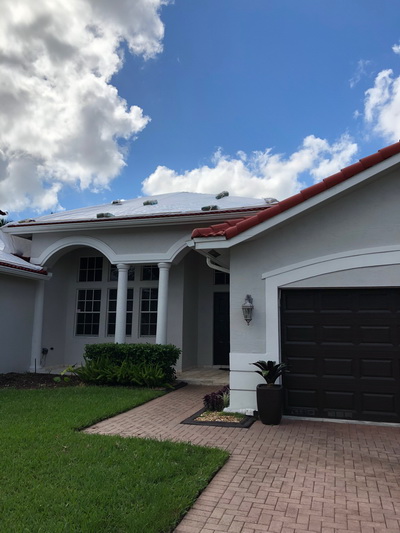 It can be a rude awakening when you come home from a long, hard day at the office only to find that the roof is leaking, and water is coming into your Pembroke Pines home. This is something that nobody plans for, regardless of the age of the roof. Every homeowner thinks that even though the roof is guaranteed for 20 years, that it will last a lifetime. Unfortunately, nothing is further from the truth. There are plenty of variables and a plethora of things that can cause damage to your home's roof. Just think about New Year's Eve and the Fourth of July with those pretty fireworks your neighbors shoot off high in the sky. The hot embers and rocket debris do come back down to the earth. It is possible that they can land on your roof, and cause damage, or even a fire. This damage can cause your roof to leak because of damaged shingles. RestoPro770 offers emergency tarp services in Pembroke Pines, Cooper City and Davie.
Emergency Roof Repair Tarp in Palm Beach County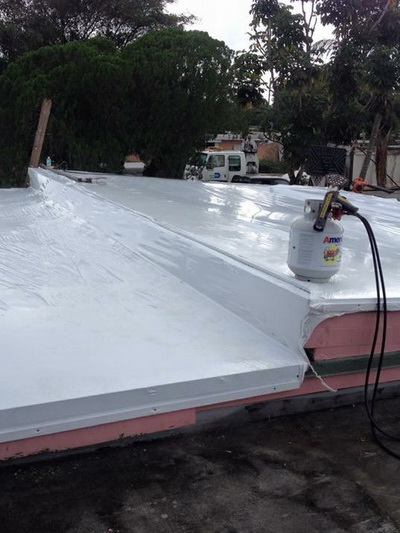 As Boca Raton homeowners, most people do everything they can possibly do to ensure the safety of their homes. They prune their trees, re-caulk the windows when needed, and clean the gutters regularly. Unfortunately, they are things that cannot be predicted that could truly wreak havoc on the roof of your home. After all, Florida is the lightning capitol of North America, so very bad things can happen rather quickly. Lightning can strike a tree and cause part of it to collapse onto the roof of your home. Even small trees can cause a lot of damage to a roof, or even the trusses. Not only does roof damage cause leaks, but they can also result in severe structural damage. Any you are subject to storm damage, you will need to have a company in to install heavy-duty, waterproof roof tarps to protect your investment. RestoPro770 is always available for emergency roof tarp installation services in Boca Raton.