Shrink Wrap Roof Services in Kissimmee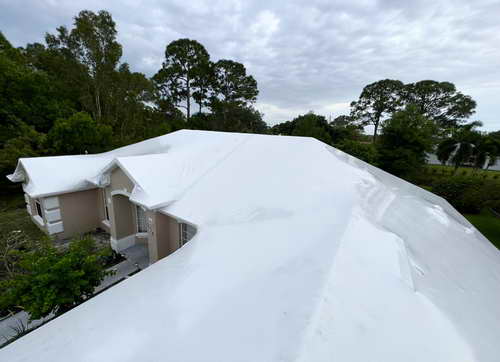 Because of Kissimmee's location in Florida, year round it has a great climate, warm during the summers and cool during winter. It's nearby Disney World, Universal Studios, Sea World, and other notable theme parks so year round you can take your family and enjoy the parks and rides. Compared to the rest of Florida the crime rate is relatively average so it's safe for a family to reside in.
Emergency Roof Shrink Wrap in Kissimmee
RestoPro770 offers emergency roof shrink wrapping in Kissimmee. They'll work quickly to make sure that your home is safe from any further water damage as soon as possible. RestoPro770 uses only high quality materials and the best technology to ensure that you're getting the best services possible and that your home is as safe as possible. They have a meticulous eye for detail and will work to ensure that your shrink wrapping is applied to the highest quality possible. You can always trust RestoPro770 to deliver a high quality service, they're highly reliable and are dedicated to making sure that you're satisfied with their services.
Roof Shrink Wrap Installation in Osceola County
RestoPro770 is dedicated to their customers and will make sure that you're informed about their services. RestoPro770, Inc. is an IICRC certified company and an active member of the Restoration Association of Florida. RestoPro770 features 24/7 availability with quick response time, no matter what time it is, you can request their services and they'll deliver quickly. You can always ask their customer service any questions you may have and they'll provide you with short, clear, and concise answers. They'll make sure that you fully understand what they provide in their services so that you can make educated decisions about their services.
Shrink Wrap Roofing in Kissimmee
Call RestoPro770 at 888-466-0770 for all of your shrink wrapping needs in Kissimmee and anywhere throughout Central Florida. They also offer additional services like attic insulation removal, water damage mitigation, and emergency boardup services.
Quote Request