Roof Tarp Services in Kissimmee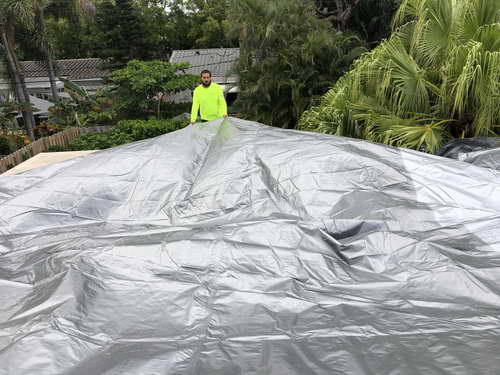 Kissimmee is a great area to live in Florida. The weather is great year round and there are many places to interact with nature. Kissimmee is located near Orlando which means you get easy access to the multitude of world renowned theme parks located in Orlando such as Disney World, Universal Studios, Seaworld, and others. Kissimmee is also a very diverse location, filled with people of many different cultures.
Emergency Roof Tarping in Kissimmee
RestoPro770 offers emergency tarping services in Kissimmee. They'll work quickly to ensure that your home is secure and safe from any further water as soon as possible. RestoPro770 will make sure that they're following procedures and applying their products properly to ensure that your home is safe. They use only the highest quality materials and newest technology to ensure that you're getting the highest quality services possible. RestoPro770's tarps will last long enough for you to be able to make arrangements for permanent repairs without the stress of time urging you forward.
Roof Tarp Installation in Osceola County
RestoPro770 has a great work ethic and has great customer service. RestoPro770, Inc. is an IICRC certified company and an active member of the Restoration Association of Florida. They have 24/7 availability and quick response times, you can request their services anytime, emergency or not. You can always ask their customer service any questions you may have about RestoPro770. You can ask about pricing, scheduling, or anything you might be wondering about, they'll always try to answer your questions in an accurate and simplified manner. RestoPro770 wants you to be informed about the services you'll be receiving from them. RestoPro770 is a reliable company whenever you need emergency tarping services.
Kissimmee Roof Tarping Services
Call RestoPro770 at 888-466-0770 for all of your roof tarping needs in Kissimmee or anywhere else in Central Florida. RestoPro770 also offers additional services like mold damage remediation, attic insulation removal, and odor removal services.
Quote Request