Fogging Decontamination Services in West Palm Beach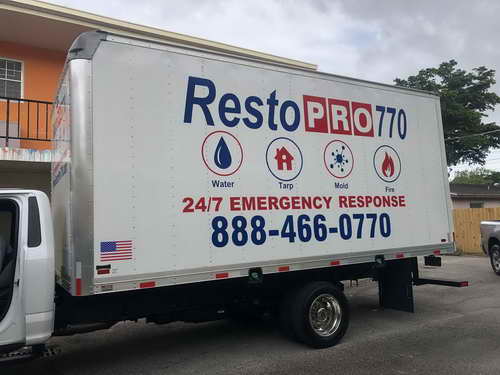 Fogging decontamination services in West Palm Beach is a very good option when choosing treatment services for sanitization. Cleanliness and disinfection are the best ways to prevent further spreading of viruses and bacteria. We cannot guarantee that the EPA solutions and treatments used by RestpPro770 are completely effective against COVID-19, because this strain is completely new. But we can assure you that these treatments and solutions are proven effective against similar respiratory viruses. It will help to reduce risks in our families, businesses, and communities.
Fogging Decontamination in Palm Beach County
For best practices in fogging decontamination in Palm Beach County, RestoPro770 has your back 24/7. We utilize EPA approved treatments and solutions that are proven effective in killing viruses that are similar to COVID-19. Many respiratory viruses are very similar, just not exactly the same strain. Because COVID-19 is so new there are not yet proven treatments or solutions that the EPA has approved. Despite this, we can all still do our part to keep things decontaminated and sanitized with the best options available to reduce the risks and slow the spreading of viruses.
Commercial Fogging Decontamination in West Palm Beach
Commercial areas are ripe for contamination and spreading of contagions. Commercial fogging decontamination in West Palm Beach is a perfect option for helping combat the contagious spreading of viruses, bacteria, and germs. Fogging is a great treatment option because it reaches all nooks and crannies of space much easier than some other treatment options. Fogging can be used for indoor or outdoor areas and to effectively cover large spaces. This option allows us to be responsible for doing our part to help keep everyone safer and alleviate fears of contracting contagious viruses and germs in the areas you service.
Industrial Fogging Decontamination in West Palm Beach
Industrial fogging decontamination in West Palm Beach is another area that can help majorly in reducing risks of viruses and bacteria spreading into our communities and even wider, depending on the industrial reach. As humans, business owners and corporations all step up in their responsibility to helping and serving our world, decontamination is a top priority. While no one can promise that they can kill this recent strain of Coronavirus, COVID-19, we do have access to EPA approved treatments and solutions that are proven effective in killing similar viruses' strains of Coronavirus; SARS Coronavirus, Human Coronavirus, as well as other respiratory viruses.
During times like we are experiencing currently; everyone tends to become more compassionate and turns to a more unselfish service. RestoPro770 is working hard to do our part to help in our communities as much as possible. We are available 24/7 for decontamination and sanitization services. Contact our office staff 888-466-0770 to schedule an appointment or to answer any of your questions during this uncertain time. Our employees are trained and using full personal protective gear and equipment for safety.
RestoPro770 uses UltraSnap ATP Surface and Water Damage Testing before and after sanitizing and disinfecting jobs. ATP testing results indicate whether a surface needs to be sanitized. Call 888-466-0770 to schedule testing at your home or business.
Quote Request