Tarp Installation in Delray Beach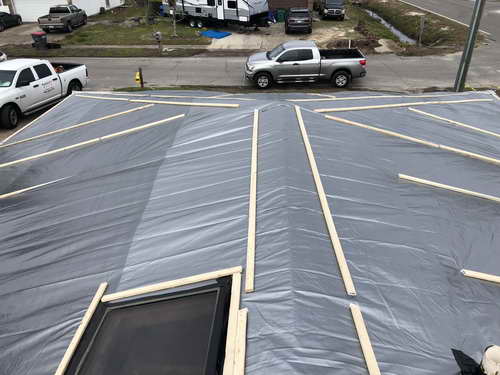 There are so many wonderful things that people have learned to count on in South Florida. The beautiful, sandy beaches with the blue water of the Atlantic lapping at its shore. The sun shining down and seemingly dancing across the ripples in the water. Gorgeous days and relaxing evenings are generally taken for granted because there are so many of them. Unfortunately, the downside to living in such a great place is the fact that the area experiences tropical systems. These systems could be minimal tropical storms, or hurricanes of varying strengths. Although any heavy wind gusts can damage the shingles of a home, tropical systems do so much more frequently. When shingles go missing, there is the potential for water to seep into the attic and ultimately, into the ceilings of the house. Water damage is nothing to ignore, as the humidity in South Florida is conducive for mold growth. The cost and stress involved with mold remediation services is tremendous, so it is imperative that the homeowners mitigate the damages by tarping the roof. RestoPro770 offers immediate roof tarping services in Delray Beach.
Roof Leaking Services in Boynton Beach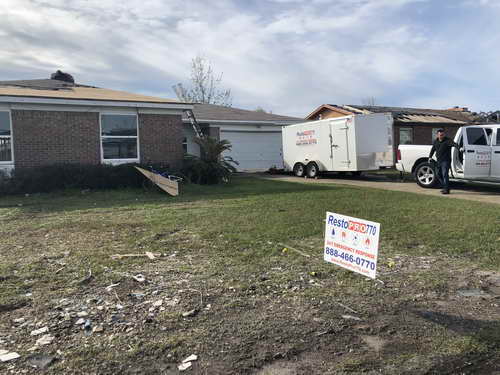 The average homeowner never gives a second thought to the roof that keeps their loved ones and personal property safe from the elements. It's just not something that we ever think about on a regular basis. People worry about household appliances failing, or the air conditioning unit cutting out, but very few think about the roof, until its too late. In all reality, most people don't notice there's a problem until they see water damage on the ceiling or find water dripping on the floor. The homeowner or a handyman should inspect the roof annually to check for potential problems. Once a problem occurs, tarping is necessary. RestoPro770 provides roof tarp installation in Boynton Beach.
Boca Raton Roof Tarping for Storm Damage
Wind isn't the only things that can damage your roof. Flying debris such as tree limbs, patio umbrellas, and the like are equally as destructive. Debris can scrape across the shingles and rip them off. Tree limbs can even put holes through the wood. Immediate action should be taken following the storm. RestoPro770 offers emergency tarp installation in Boca Raton.
South Florida Roof Damage Tarp Services
RestoPro770 understands that when damage occurs, homeowners need help right away. They offer complete boardup services, hurricane damage services and roof tarp installation in Palm Beach County and Broward County. Call 888-466-0770 for emergency roof tarps assistance.
Quote Request