Roof Tarp Installation in Santa Rosa County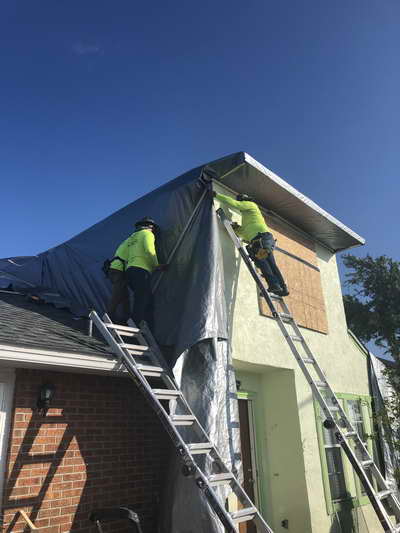 When roof damage occurs, roof tarp installation in Santa Rosa County is a safe and wise option to mitigate water and reduce damages to the building. A tarp can be installed even when storms may still be forecast, this mitigates the amount of water that can cause damages. Tarp installation should not be attempted by untrained persons as it can be dangerous but also can cause further damages if not installed correctly.
Emergency Roof Repair Tarp in Escambia County
If you have an urgent situation that requires an emergency roof repair tarp in Escambia County, you want to know that the contractors are well trained and experienced. Installing a tarp can offer time for other repairs to take place without creating more water damage. It can also give you a moment to assess overall damages in emergency situations so repairs can be prioritized. Contacting a professional contractor that offers many water damage services is a wise choice because they can help with evaluating damages and creating a plan of action for repair and restoration.
Roof Tarping for Storm Damage in Pensacola Florida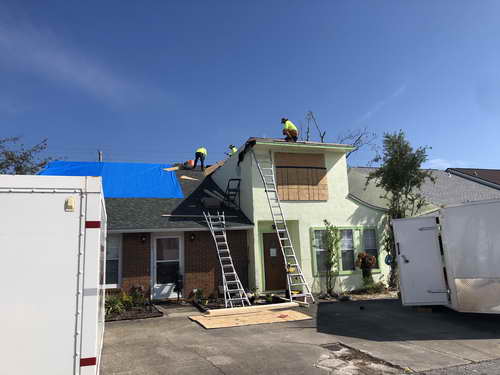 Storms are simply part of life in some areas, knowing who to contact if you have storm damage is key to reducing the amount of damage and keeping repair costs as low as possible. Roof tarping for storm damage in Pensacola Florida is an option for mitigating water damage when you need to wait on repairs, for whatever reasons. Tarps should be installed by a trained professional contractor for safety and proper installation. Roof tarps can also be used to protect the interior during other construction or repairs before the roof is completed. Tarp installation can offer you a moment to breathe while you figure out what you need to do for your situation. It is not a permanent repair, but when installed correctly a tarp will offer protection for a short time period.
Roof Damage Tarp Services in Pensacola Beach
Anytime that you have damage to a roof, it is a great option to have roof damage tarp services in Pensacola Beach. Installing a roof tarp keeps more water from coming in, to allow for fewer damages or other repairs to be completed. A roof tarp also can reduce roof damage itself, by mitigating the water further damages will be reduced until the roof can be properly repaired.
Roof tarp installation needs to be done correctly, to ensure leaks are controlled and water mitigation is begun. Any type of roof damage can create much damage. Calling our professionally trained staff at 888-466-0770 will offer you peace of mind that damages will be minimized. RestoPro770 also offers many other water and mold damage services in Santa Rosa County and throughout the whole Pensacola Florida area.
RestoPro770, Inc. is an IICRC certified company and an active member of Restoration Association of Florida.
Quote Request