Mold Remediation in Port Charlotte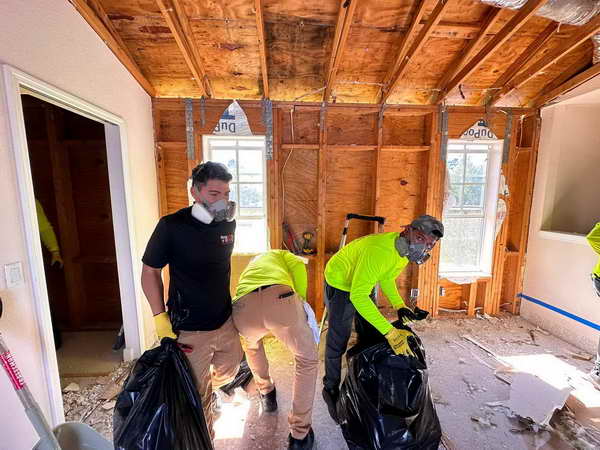 Mold is one of the biggest threats to homes and businesses in the Port Charlotte area. One of the primary reasons for this is the amount of flooding rain that the area is exposed to. Most recently, Port Charlotte was pounded by the high winds, torrential rains, and storm surge from Hurricane Ian that hit the West Coast of Florida.
What makes flood water so dangerous to your home is any amount of standing water in your home or business. When the walls and flooring are overexposed to moisture for an extended time the threat of mold growth goes up exponentially. When there are signs of black mold in your home it must be professionally remediated. The experts at Restopro770 are highly trained and experienced in carrying out the necessary steps to properly do mold remediation in Port Charlotte. They are also a resource for homeowners looking for help with preventing further exposure to weather after a storm, such as roof tarps to prevent additional rain from getting into the home through holes in the roof.
Mold Testing Services in Port Charlotte
As a homeowner or business owner, you want to be sure that your family or employees, and customers are not exposed to the potential toxic mold. The best way to do that is to hire an expert to come in and first evaluate the property's condition after all of the water has finally receded. In the Port Charlotte area, you can call Restopro770, the recognized leader in mold remediation. They have all of the right equipment to clean up all the affected areas and they also have experienced technicians that are highly trained in mold cleanup.
Mold Damage in Port Charlotte
Mold is extremely dangerous and the biggest health threat after flooding rain has hit the area. The most recent example in the Port Charlotte area was when Hurricane Ian made landfall. It brought both torrential rain and a dangerously high storm surge. Unfortunately, it doesn't take long for mold to take hold after the floors and walls have been exposed to moisture for a long period. Once the mold is discovered in your home, you have to have all of the affected material removed by professionals to ensure that you and your family are not exposed to the toxic spores from the mold.
Mold Removal Services in Port Charlotte
Once you have identified the potential for mold growth in your home after a storm, you want to avoid the area. Since any disturbance of air in the room can release mold spores. You want to immediately contact a professional mold remediation company. They will come out and test the room for the existence of mold. Once it is determined that mold spores are present, they will come in and seal off the room. Following all industry standards and state guidelines, they will remove all of the molds and apply the proper agents to disinfect the contaminated areas. In the Port Charlotte area, one of the best resources for mold removal is Restopro770.
Mold Recovery Services in Charlotte County
Mold is particularly dangerous when it is found inside a home. The dangers it poses to the health of your whole family are genuine. If you or anyone in your family breathes in mold spores it can be very harmful to you. That is why if your home is affected by any type of storm that causes water to enter your home. You need to contact a professional company that specializes in mold cleanup. Restopro770 is one of the premiere company that offers mold recovery in Charlotte County. They have the expertise to identify and remediate all types of mold and restore your home to its original condition. Call 888-466-0770 and schedule your mold testing service.
Quote Request