Mold Damage in Rotonda West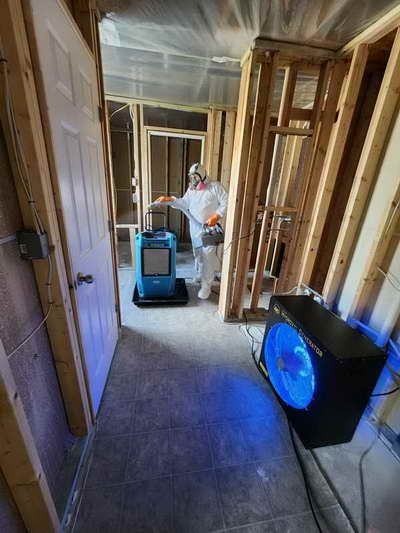 Mold is a realistic result of any type of flooding in your home or business. For that reason, it is very important to have a professional inspect your home or business if there was any amount of flood water present after a storm. Professional companies have the right type of equipment and highly trained personnel to evaluate your property and determine if are going to need any amount of work on your property.
In Rotonda West, Florida numerous companies offer mold damage services. One of the top service providers in the area is Restopro770 and they are ready and willing to offer their services to all homeowners and business owners. Mold is definitely not something you want to mess around with, if you suspect you have mold then you need to get an expert to figure it out.
Mold Damage Services in Rotonda West
The likelihood of having a widespread mold problem in your home after a major tropical storm or hurricane when it got flooded is very high. Therefore, anytime you have any amount of standing water that remained in your home you stand a substantially high risk for mold on the walls or floors. Mold damage is not something you want to take lightly. There are many health risks involved and you and your family could get really sick. You should contact a professional company to come in and check out the house for potential damage. There could be hidden mold that you just cannot see and that could make you very sick.
Mold Remediation Services in Rotonda West
Since Rotonda West is located near the Gulf Coast of Florida it is not surprising that homes and businesses are susceptible to tropical storms and hurricanes every year. Along with these significant storms comes the danger of flood water getting into your home or business. If you are affected by a storm and discover flood water has penetrated your home you should be very vigilant for any signs of mold. If you suspect that you might have a mold issue, immediately contact a professional mold remediation company. In the Rotonda West area, you should contact Restopro770, they are experts in taking care of mold problems.
Mold Recovery Services in Charlotte County
When severe storms track into the Gulf of Mexico the whole western coast of Florida seems to be in the bullseye for some severe weather. That means all residents and business owners in the Charlotte County area must constantly worry about severe damage. Whether it is torrential downpours from tropical storms or dangerous storm surges from hurricanes, the risk is substantial from mold. So after the storm hits and everything calms down, you need to have an expert in mold recovery. They have all of the necessary equipment and expertly trained people to come in and go through all of the phases of restoring your home back to normal.
Mold Removal Services in Rotonda West
If after a major weather event that left any amount of standing water in your home you need to consider that you likely will eventually be dealing with some amount of mold. Unfortunately, the mold can be inside the walls or under the floors and you don't know it. If you leave it untreated it could spread throughout the home putting you and your family at severe risk. It is important to have a company like RestoPro770 come in and evaluate the space and then remove any signs of mold and treat the surrounding areas. Then you can look into restoring everything back to the original. Call 888-466-0770 to schedule mold damage services in Rotonda West area.
Quote Request