Mold Damage in Fort Myers Beach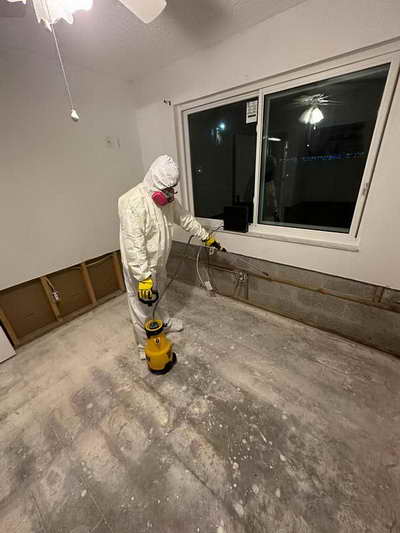 Every homeowner in Lee County knows the risks involved with living in this little slice of paradise when it comes to the much-dreaded hurricane season. While everyone keeps an eye on The Weather Channel with their fingers crossed hoping nothing will hit this time, there are no promises. It's simply a risk we take to live our lives in this beautiful place. Of course, when a storm does come, we do all that we can to protect our homes from damaging winds and flying objects. Responsible homeowners remove everything that can become airborne and cause damage and put them indoors to protect their homes and the homes of their neighbors. Although this is a common-sense thing to do, all too many people fail to do so. These objects can quickly become dangerous in the high winds, and cause damage to the windows of homes. The broken glass allows the rain entry and will cause severe damage to the home's wallboard. Depending upon the aftermath and ability to get electric back, you could have active mold growth before you can contact your insurance company. RestoPro770 can assist you in emergency boardup and can also tackle the old damage in Lee County.
Lee County Mold Damage Remediation Services
While most people never give a thought about the magical pipes that run inside of our walls and bring us water anytime we turn on the faucet, they do start to think about them when water is spraying out from behind the kitchen sink. Sure, many handy homeowners will shut off the water, wipe down the cabinet, and repair the pipe themselves. That's all fine and dandy; however, they rarely do anything to dry out the wallboard that got wet. Ignoring it and hoping for the best is a recipe for mold growth. RestoPro770 offers broken pipes mold damage services in West Coast Florida.
Mold Remediation Services in Fort Myers Beach
The most common way of getting mold inside of a home is through a leaking roof. Roof leaks often are unseen until the water spot starts on the ceiling, or there is water pooling on the floor. Roof damage can be simply from age or because a storm came through and blew off some shingles or tiles. The longer this has gone unnoticed, the higher the chance that you will have mold in your house. RestoPro770 can install roof tarps and get a handle on remediating the mold damage in your home.
Fort Myers Beach Mold Damage
RestoPro770 can expediently help you address your emergency situation. They offer emergency boardup, roof tarp installation and shrink wrap roof protection, as well as mold damage remediation in Lee County, Charlotte County, and Sarasota County. Call 888-466-0770 for an immediate response to your mold damage emergency situation.
Quote Request