Roof Tarp Services in Estero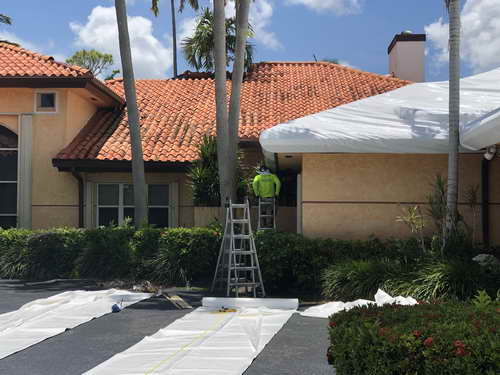 Estero is a great place to raise a family. It has a low crime rate, so it's safe for anybody trying to raise a family, and its public schools are above average. There are good colleges in the area and many businesses offer student discounts. The community is dense and suburban while featuring a variety of local businesses.
Roof Tarp Installation in Lee County
RestoPro770 offers high quality tarping installation in Lee County, as well as other areas. They'll work swiftly to ensure that your home is protected from further water damage as quickly as possible. They're dedicated to making sure that your home is safe and secure again, they'll never skimp on quality just to get your project done faster. They use high quality materials; you can rest assured that your home is safe and secure again. The tarp will last long enough so that you can choose a more permanent solution at your own leisure. RestoPro770 is a reliable choice whenever you need roof tarping for whatever reason.
Emergency Roof Tarping in Estero
RestoPro770 is well renowned for their high quality services and great customer relations. They have 24/7 availability so you can always ask them questions about any of their services, like an estimated price, or any questions regarding scheduling concerns. They have a good work ethic, they'll work hard and quickly on any of their projects while still making sure that they deliver the highest quality service that they can. They have a quick response time so no matter when you need it, they can always provide you with their services. RestoPro770, Inc. is an IICRC certified company and an active member of the Restoration Association of Florida. Restopro770 is dedicated to making sure their customers are satisfied and happy with the services they've been provided.
Roof Tarp for Leaking Roofs in Estero
Call RestoPro770 at 888-466-0770 for all of your roof tarping needs in Estero and other areas across the whole Florida. They also provide additional services like emergency boardup, water damage remediation, and leak detection.
Quote Request