Roof Tarp Installation in Boca Grande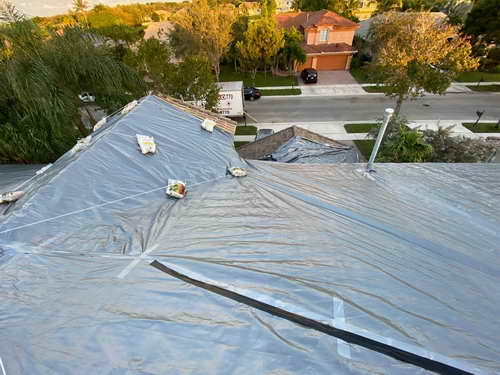 There are times that you may require roof tarp services in Boca Grande, to either mitigate damage or secure a structure while the interior needs attention. A roof tarp installation is an exceptionally good barrier for keeping moisture out to allow repairs to be assessed or completed. It also can be used when working on the interior of a structure before the roof is completed. There are other less common uses as well, but all-in-all it is an exceptionally good option for damaged roofs.
When you have an urgent water issue that is causing a leaky roof, roof shrink wrap services in Boca Grande is a viable option. This stops the water from further damaging your roof, as well as other interior materials. It gives you peace of mind that you can breathe and take the necessary steps to mitigate the source of water and assess damage. Having a shrink wrap installed also can allow you time to complete repairs or other interior work without risk of water damages. It is a highly effective way to stop the water from entering the structure, giving you time to evaluate and create a plan of action of what needs to be completed, repaired or replaced.
Roof Tarp Services in Lee County
Water damage in Lee County is an issue that many will experience during storm season. It could be very minor and something you are easily able to locate and repair. Other times it could be severe and require extensive professional work to ensure that all damage is removed, repaired, and remediated for mold. Any type of water damage can become a larger issue if it is not discovered and mitigated very quickly. If you suspect roof leaks, or moisture where it does not belong, you will want to act immediately. Contacting a professional contractor for shrink wrap roof damage in Lee County is your most positive option.
Roof Damage Tarp Services in Boca Grande
If you need a roof shrink wrap installation in Boca Grande, you want to ensure that the company or contractor you hire is experienced and has professional ethics. There are so many horror stories of shifty contractors that pop-up and disappear, leaving customers with terrible issues. If possible, ask for referrals from family and friends, also ask potential companies for customer referrals. It is also important to ask how long they have been in business, how much experience and if all their licensing and insurance policies are up to date.
Roof Covering Services in Boca Grande
RestoPro770 offers you peace of mind during storm damage, roof damage, and mold inspection catastrophes in Boca Grande and surrounding counties. Our skilled staff can offer you tarp or shrink wrap options according to your needs, to get your structure secured from more damage. They will be there to walk you through every step during this stressful time. Call our professional staff at 888-466-0770 to get your property and your family back on track as soon as possible!
Quote Request