Waterproof Roof Tarps in Boynton Beach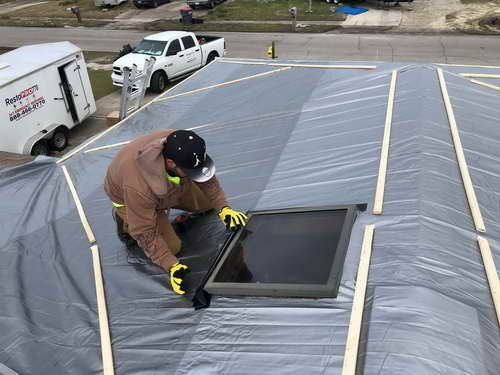 One of the things that very few homeowners in Boynton Beach worry about is the roof on top of their homes. People ask about the roof when they buy a house and as long is it isn't falling apart or leaking, they really never give it another thought. This is unfortunate as roofs do have a life expectancy. Some new roofs are warranted for ten, twenty, or even thirty years. Of course, a preowned home rarely comes with a roof warrantee. The truth is that either you or your handyman should take the time to look at the roof every year. You have to look for torn shingles, missing shingles, and soft spots. If you notice any problem, you'll need to get a company in to cover the roofing material with a waterproof tarp. This will prevent any rain from getting inside of the attic, and then inside of the living space of the home. An ounce of prevention is worth a pound of cure, they say. RestoPro770 offers tarp installation in Boynton Beach.
Boca Raton Roof Tarping Services
Many people in South Florida take the trees on their properties for granted. They rarely think that someone should come in to check on the health on the trees, or even find out if they need to be trimmed. An arborist will be happy to evaluate your trees. This is an important service as unhealthy or dying trees can cause major damage to your home. Of course, nobody wants to spend money to trim or remove problem trees, but this can save you money and headaches in the long run. Ignoring problem trees can put your roof at risk of damage. RestoPro770 can provide you with waterproof roof tarps as a temporary repair in the event a tree damages your roof in Boca Raton.
Hurricane Damage in Delray Beach
Everyone living in South Florida understands that dealing with the occasional tropical storm or hurricane is the price we have to pay to live in such a beautiful piece of paradise. Hurricanes can severely damage roofs and other parts of a home. Just look at the number of homes covered by blue tarps shortly after Hurricane Irma hit SWFL. Many of those homes also sustained mold damage because of the length of time the power was out, and the cell towers were down. If this happens to you, get in touch with a hurricane damage mitigation company as soon as possible. RestoPro770 provides emergency response for roof leaking solutions in Delray Beach.
South Florida Roof Damage Mitigation Services
RestoPro770 understands that homeowners are in a panic when water is leaking into their homes due to roof damage. They are ready to help with roof tarping services, storm damage assistance, and emergency boardups. Call 888-466-0770 for emergency waterproof roof tarps in Broward County and Palm Beach County.
Quote Request