Shrink Wrap Roof in Santa Rosa County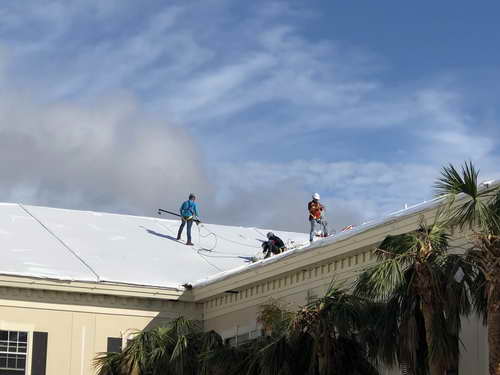 People who have experienced a storm or a hurricane are well aware of what it can do to the structure of homes, especially roofs. After the hurricane is over, the roof needs to be repaired to prevent leakages, which is not at all a good sign. Between the hurricane and the repair process, a temporary shrink wrapping can save the roof from further damage.
Florida is one of the most amazing places in America. The tropical climate and the sandy beaches make it irresistible for the tourists. The place also offers several recreational activities for residents and tourists. However, there is a downside to this fun-filled place. This place experiences some of the worst hurricanes, which pose a huge threat to house structures and roofs. To deal with the post-hurricane damages, shrink wrapping the roof is a great option to consider. RestoPro770 provides excellent shrink wrapping services in Santa Rosa County.
Shrink Wrap Roof Services in Escambia County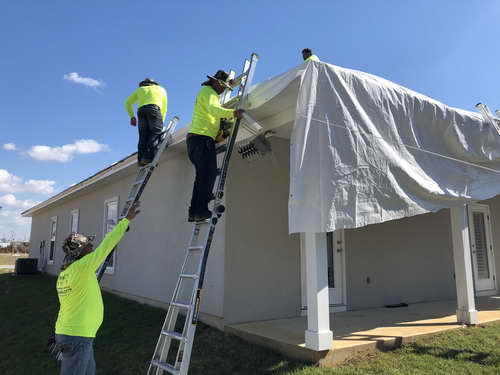 After the storm is over and roof leakage starts to happen, the mistake that most people commit is that they install a substandard roof tarp. This may be cheap but is not the right solution to the problem. Inferior quality roof tarps cannot sustain themselves in the long term. With constant exposure to water and sunlight, they get flimsy. On the other hand, a heavy duty shrink wrap can not only sustain itself but also keeps the roof from further damage. RestoPro770, a professional shrink wrap service provider in Escambia County, specializes in matters related to shrink wraps and damaged roofs.
Shrink Wrap Roof Installation in Pensacola Florida
After a hurricane, the telephone lines and other means of communication get damaged. It can take a long time for help to arrive to fix broken roofs. Before help comes, a shrink wrap can be used as a temporary solution. RestoPro770 makes sure that the damaged roofs in Pensacola Florida are shrink wrapped and do not get damaged any further. Shrink wrapping a roof is something a person can do on their own. In order to have a roof shrink wrapped, a professional shrink wrap service provider needs to be contacted. With the right skills as well as specialized equipment, RestoPro770 makes the shrink wrapping process easy and quick.
Pensacola Beach Shrink Wrap Roof Tarping
Restopro770 is an IICRC certified restoration company. They understand the frustration and anxiety homeowners go through when their roofs get damaged during a storm. Restopro770 provides top-of-the-line shrink wrapping services in Santa Rosa County and throughout the whole Pensacola Florida area. Call 888-466-0770 for emergency shrink wraps and roof tarps services.
Quote Request