Hurricane Damage in Panama City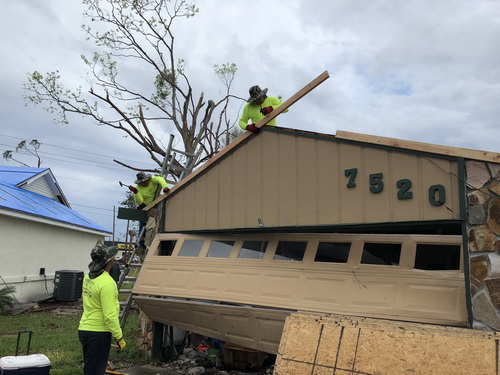 While many homeowners look forward to summertime because it means the snowbirds will be going back to they're homes up North and traffic is a bit lighter, lurking in the back of their minds are the dangers that lie ahead in hurricane season. Everyone keeps their fingers crossed that any tropical storms or hurricanes brewing will blow right on by Florida. Unfortunately, there's no way to stop them. All we can do is hope for the best and prepare for the worst. Preparing is done in a variety of ways, from stocking up on water and non-perishable foods to bringing in loose items that could become projectiles and installing the hurricane shutters. The one thing that simply cannot be protected is the roof of the house. It protects us, but we can't protect it. The cold, hard truth is even a tropical storm can damage the roof. We've all seen the devastation that Hurricane Michael did. Just a thought back to storms of the past and the memories of the "blue tarp nation" many Floridians belonged to. RestoPro770 is available to assist homeowners with storm damage in Panama City and the surrounding areas.
Lynn Haven Storm Damage Services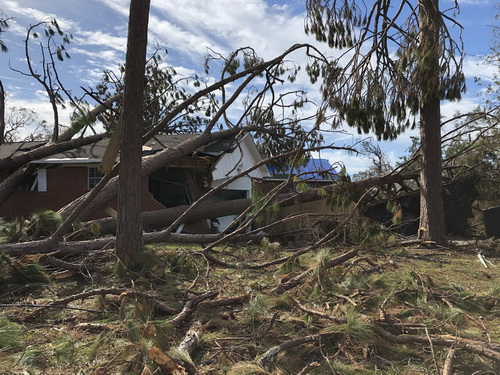 There are plenty of folks who have their hurricane shutters stored in the garage so that if a hurricane takes an unexpected turn, they can be ready quickly. There are equally as many homeowners who simply couldn't afford to buy those shutters, so the opt to buy plywood to cover the windows when necessary. During Hurricane Michael, many people saw that every store ran out of wood leaving many homes unprotected. When an announcement was made that a delivery would be arriving, the lines were incredibly long, and the supply was very low. Unprotected windows and glass doors can easily break, as some people don't secure items around their properties. RestoPro770 offers emergency boardup services in Lynn Haven.
Roof Tarp Installation in Callaway
After a storm and when it as completely safe, you'll need to look at your roof and see if you've lost any shingles. Leaks don't always start immediately. The water generally gets into the attic first and after time, it will seep through the ceiling and show on your floors. At the first sign of roof damage, you'll need to contact someone to secure the area with a tarp. RestoPro770 provides roof tarping services in Callaway.
Roof Leak Solutions in Springfield
RestoPro770 understands the angst people go through after they've sustained damage to their homes. They offer emergency boardup services, roof tarp installation and hurricane damage solutions in Springfield and throughout Bay County. Call 888-466-0770 for emergency storm damage services.
Quote Request