Tarp Installation in Broward County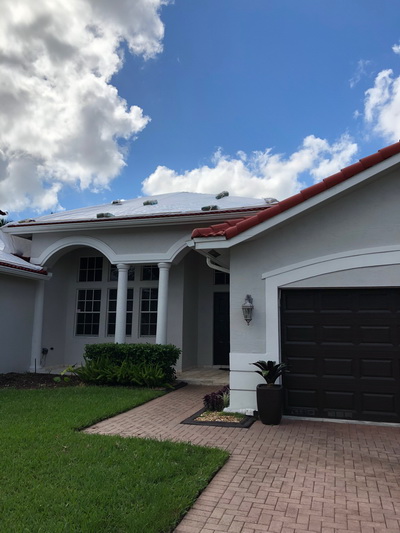 It can be a rude awakening when you come home from a long, hard day at the office only to find that the roof is leaking, and water is coming into your Pembroke Pines home. This is something that nobody plans for, regardless of the age of the roof. Every homeowner thinks that even though the roof is guaranteed for 20 years, that it will last a lifetime. Unfortunately, nothing is further from the truth. There are plenty of variables and a plethora of things that can cause damage to your home's roof. Just think about New Year's Eve and the Fourth of July with those pretty fireworks your neighbors shoot off high in the sky. The hot embers and rocket debris do come back down to the earth. It is possible that they can land on your roof, and cause damage, or even a fire. This damage can cause your roof to leak because of damaged shingles. RestoPro770 offers emergency tarp services in Pembroke Pines, Cooper City and Davie.
Weston Roof Tarp Installation Company
South Florida is prone to storms, tropical storms, and hurricanes because of the location. This is something homeowners accept in order to live the wonderful outdoor lifestyle we are fortunate enough to do. When a storm or worse hits, roofs can be damaged or destroyed. It's part of the reality of living in paradise, but the issue of the roof damage must be addressed readily to prevent further damage, and damage to the interior of the home. Even your homeowner's insurance company expects that you do all that you can to mitigate the damage. This entails installing a waterproof tarp over the roof leaks to prevent water from entering the domicile. RestoPro770 provides storm damage services throughout Broward County.
Cooper City and Davie Storm Damage Services
While maintaining the trees on your property can seem to be a daunting task, it is something that must be done to ensure the safety of your home and family. Even the healthiest of trees can become problematic at times. A lightning strike can cause part of the tree to collapse onto a roof. During a strong storm, trees can be blown over onto a house, or even uprooted at tossed there. This can seriously compromise your roof. It is imperative that you call someone for emergency tarp services in South Florida.
South Florida Roof Leaking Temporary Repair
RestoPro770 provides fast and quality services to address roof leaking issues in Broward County and Palm Beach County. They offer emergency tarp services, replacement roof tarp installation, and storm damage services. Call 888-466-0770 for the emergency boardup and roof tarping experts in South Florida.
Quote Request