Roof Leaking in Davie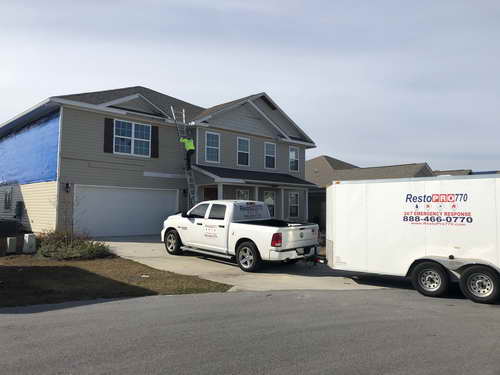 Most of the homeowners in South Florida do their very best to keep their homes looking nice and fresh. Everyone wants to have the curb appeal that draws people's eyes and makes them take notice of the lovely house and yard. It makes people feel good that others like the way they present their home to passersby. The one thing that homeowners don't even look at or give a thought to is the roof, and it's an important key to having a safe and attractive home. The roof keeps you and your possessions safe and also protects the framing of the roof and interior walls. Roof damage that is left unattended can create a host of bigger problems than the leak itself. Damage to the structural integrity of the trusses and mold growth are expensive to repair and remediate. It's best to call for help in temporarily repairing the damage. RestoPro770 offers emergency roof tarping in Davie.
Weston Emergency Tarp Installation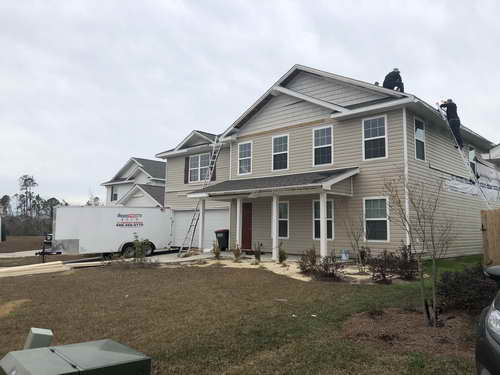 In the Broward County area, storms quickly brew up in the Atlantic in the afternoons of rainy season. It's just part of the routine that people learn to deal with. Normally, the storms are simple rain events; however, sometimes they bring some good wind gusts with them. Those gusts can be strong enough to send weak or dying tree limbs flying. Falling limbs can easily cause damage to roof shingles, tiles, or even the plywood, depending upon the size and weight of the branch. This damage can quickly cause the roof to leak, so you'll need to call in the professionals to help. Resto Pro770 provides roof tarping services in Weston and the surrounding communities.
Roof Repair Tarps in Parkland
Although people are usually given plenty of time to prepare for hurricanes, there is nothing that anyone can do to protect the roofs on their homes. Sure, making sure there's no hanging branches or things that could become projectiles help, the roof goes unprotected and will hopefully keep the owner safe through the storm. The wind can be enough to remove shingles and tiles, or even rip parts of the roof right off the home. After it's safe, you'll need to contact professionals for help with the hurricane damage. RestoPro770 is available for emergency roof tarps in Parkland.
South Florida Temporary Roof Tarp
RestoPro770 understands the need for emergency response after a roof has been damaged. They offer temporary roof repair, emergency boardup, and tarp installation in Broward County and Palm Beach County. Call 888-466-0770 for emergency help with roof repair tarps.
Quote Request