Roof Leaking in Palm Beach County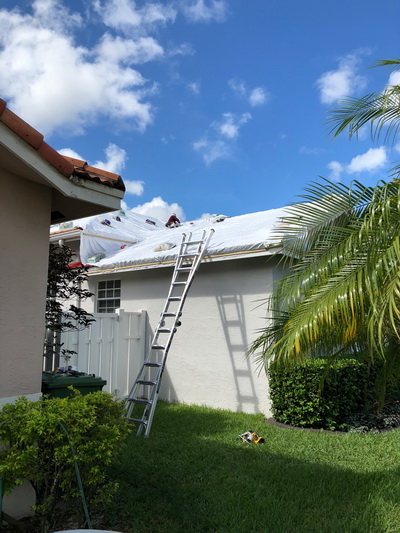 Those living in Boca Raton generally do so because they love having fun in the sun and enjoy every aspect of residing on the beautiful Atlantic Ocean. The water is a huge part of living in South Florida; however, when a roof starts leaking water into the home, that's a completely different ballgame. Most homeowners remember the approximate age of their appliances and recognize the signs when one of them is starting to show signs of age by not working quite as well as it did in the past. The one thing that the clear majority of homeowners never think about is the roof of the house. A roof is just like every other part of your home and does have a general life expectancy. This tends to be forgotten about until the homeowner realizes that the roof is leaking. In order to reduce further damage, it is essential that you hire a company to assist in temporary roof repair. RestoPro770 offers emergency tarp services in Boca Raton and the surrounding areas.
Delray Beach Storm Damage Emergency Services
Severe storms and even hurricanes are simply things that those living in South Florida know will happen from time to time. They're occasional price we pay for living in our own little piece of paradise. Unfortunately, storms can do a number on the roofs of our homes and commercial properties. Wind can lift and cause shingles to be blown away, leaving the tarpaper exposed or damaged or ripped apart. Shingle loss is the major cause of roof leaking problems. To safeguard your home from being infested with mold, it is very important that you call someone to install waterproof roof tarps in the areas that the shingles are missing. This is actually required by most homeowner's insurance policies. RestoPro770 provides storm damage emergency tarps in Delray Beach.
Emergency Tarp Services in Boynton Beach
Life can be unpredictable at times. When it's the worst possible time for something bad happen, that's when it usually does. A freak storm with wind can blow over a tree or fireworks can hit your house causing damage to your roof. It's your responsibility to "stop the bleeding" so a roof tarp is in order. RestoPro770 will provide professionals that will quickly secure a waterproof tarp to your Boynton Beach structure to prevent further water leakage.
Palm Beach County Roof Leaking Help
RestoPro770 is one of the premiere providers of roof tarping services in Palm Beach County and Broward County. Their professional installers will ensure that the interior of your home stays dry. Call 888-466-0770 to discuss your roof leaking issues with an experienced storm damage expert.
Quote Request