Shrink Wrap Roof Services in Marco Island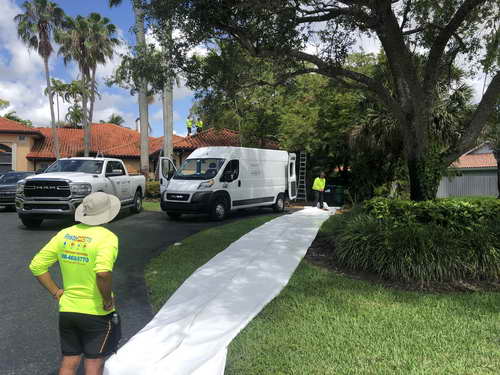 Marco Island is a perfect location for anybody who loves the beach and the outdoors to live. It has access to many white sand beaches with crystal clear blue water, with plenty of fishing and boating opportunities. There are many great food locations as well, so there's always a great choice for food nearby. Marco Island also features a low crime rate, so it's safe for raising a family as well.
Emergency Roof Shrink Wrap in Collier County
RestoPro770 provides emergency shrink wrapping in Collier County. They'll always work quickly and efficiently to make sure that your home is safe from further water damage and leaks as soon as possible. They want you to be able to relax in your own home again as quickly as you can. RestoPro770 wants to make sure that you're safe again and that you're able to resume your regular business quickly. They'll never sacrifice quality for a speedy job, however. Your safety is their utmost priority, so they'll always make sure that your tarp is safe and secure so that your home is secure and free from further leaks. RestoPro770 is a great choice whenever you need emergency tarping services.
Roof Shrink Wrap Installation in Marco Island
RestoPro770 is a great and reliable choice for whatever service you need them for. They're always dedicated to improving themselves and making sure that you get the highest quality services possible. RestoPro770 always makes sure that all of their services are properly implemented by following their guides and meeting their strict quality standards. They're always working their hardest to make sure that you're entirely satisfied with their services and that your home is safe from whatever damage they've mediated and prevented. RestoPro770 will always work with a keen eye for detail to make sure that their services are implemented perfectly and that you're satisfied with their work.
Shrink Wrap for Leaking Roofs in Marco Island
Call RestoPro770 at 888-466-0770 for any and all of your shrink wrapping needs in Marco Island and all other areas across Florida statewide. They also offer mold damage remediation, emergency board-up, and leak detection, as well as many others.
Quote Request