Waterproof Roof Tarps in Parkland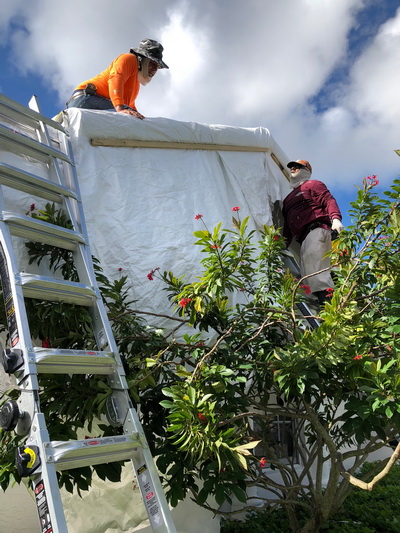 As homeowners, most pay close attention to how well manicured their lawns are, and make sure the creature comforts like air conditioning and the kitchen appliances are maintained properly. People see and use these things each and every day; however, the one big thing that we use every day and generally ignore is the roof of the house. It keeps us warm and dry and out of the elements. It protects out possessions and families. It's always there doing the job, until it becomes older and starts to show wear and tear from its age. At this point, many just try not to look at it because having a roof replaced can be quite expensive. Unfortunately, ignoring a problem doesn't make it go away. It makes the problem bigger when the homeowner has no choice but to address it. That's when they have to deal with hidden damage that has been going on for a period of time. The problem escalates and can quickly result in mold growing inside of the roof, trusses, attic, and the spores will be spewed throughout the house. Mold spores are airborne and wherever they settle will become mold infested. RestoPro770 offers emergency services for waterproof roof tarps in Weston and Parkland.
Roof Leaking Solutions in Pembroke Pines and Davie
There are few things more frustrating than coming home from working at the office only to find that water is all over the floor of your home. Of course, the natural reaction to this would be to look up, gasp and conclude that something is drastically wrong with the roof. Roof troubles must be taken care of quickly, but roofing companies need to get permits before they can begin work. A waterproof tarp will need to be installed as a temporary roof leaking solution. RestoPro770 is available for emergency tarp installations throughout Davie and Pembroke Pines.
Emergency Roof Repair Tarp in Cooper City and Weston
Storms can wreak havoc on roof shingles and tiles in South Florida. Even a mild tropical storm can result in missing shingles and broken tiles. This usually leads to the roof leaking. Of course, the leak may go unnoticed for a bit because the attic gets the water first. It will eventually start to leak through the insulation and ceilings, which is when it becomes noticeable. It's of the utmost importance that you get help as soon as you notice a problem with tiles or missing shingles. RestoPro770 provides complete roof tarping services in Cooper City and Weston.
South Florida Roof Tarping Services
RestoPro770 is the "go to" company for homeowners in need of emergency boardup and roof tarping services in Broward County and Palm Beach County. Their professionals understand the urgency of the situation and are ready to help. Call 888-466-0770 for immediate roof leaking solutions in South Florida.
Quote Request