Shrink Wrapped Roofs in Fort Lauderdale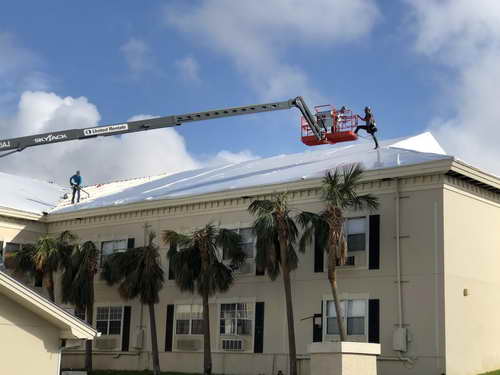 Fort Lauderdale is such an amazing city in which to live because there is so much to offer the residents. Let's face it! If it wasn't so awesome people wouldn't flock to the area each and every year in droves to get to experience what we get to live every day. From the clear blue water lapping at the soft sandy beaches and the exhilarating water sports to the lively nightclubs and delectable cuisine of the restaurants, South Florida has an awful lot to offer both residents and visitors. There is a downside that visitors rarely experience, but homeowners know is a threat, and that is hurricane season. It doesn't take a rocket scientist to know that during a hurricane the potential for roof damage is great. Shingles fly off and roof tiles crack and break with the force of the wind. This damage compromises the roof and causes further damage to the trusses and interior of the home. Every insurance company requires the homeowner to do all he can to mitigate the damage and find a way to prevent further damage. Some people opt for roof tarps, which are fine for short-term fixes, but there is a better solution. RestoPro770 offers shrink wrapping for roofs to eliminate the chance of further damage in Broward County.
Broward County Roof Shrink Wrapping for Hurricane Damage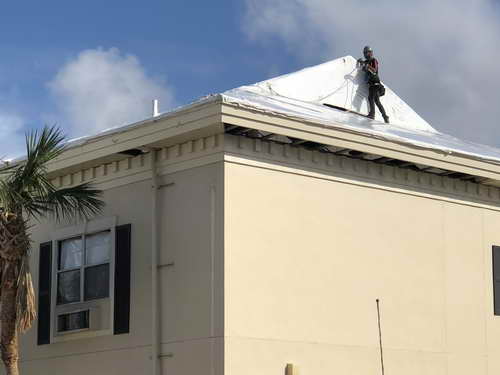 Now, most people use those blue roof tarps when they sustain storm damage. There is nothing wrong with that. The dilemma is that roof tarps do not last for very long. The rain and the sun and the heat can cause the tarp to become flimsy. This equates to it needing to be replaced every three months or so. After a hurricane, the roofing companies can be backed up for two years as we've seen after Hurricane Irma on the Gulf Coast. There is a better solution. RestoPro770 offers state of the art shrink wrapping to encapsulate the damaged roof and prevent further problems with the home.
Shrink Wrap Roof Encapsulation after Storms in South Florida
After a hurricane, homeowners have to wait for their insurance companies to send out their adjusters before they can make solid plans to do repairs on the home. Depending upon how long they were without electric and phone service, it could take two or three months before an adjuster gets there. In all reality, by then you'll be ready for a new blue tarp and be looking forward to a lifetime membership in the blue roof nation. Shrink wrapped roofs are not as unsightly as the tarps and are more reliable while waiting for the permanent repair. RestoPro770 is available to assist homeowners when they sustain hurricane damage in Fort Lauderdale.
Fort Lauderdale Shrink Wrapped Roofs
RestoPro770 understands the frustration homeowners suffer when their roofs are damaged by a storm in South Florida. They are ready to install either temporary roof tarps or shrink wrap for roofs in Fort Lauderdale, Pembroke Pines, and Cooper City. Call 888-466-0770 to learn more about shrink wrapped roofs in Fort Lauderdale.
Quote Request