Emergency Roof Repair Tarp in Palm Beach County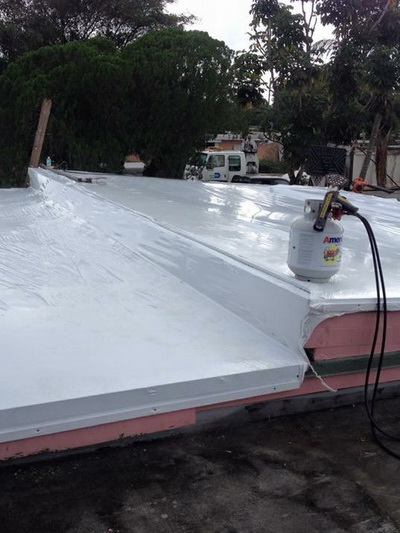 As Boca Raton homeowners, most people do everything they can possibly do to ensure the safety of their homes. They prune their trees, re-caulk the windows when needed, and clean the gutters regularly. Unfortunately, they are things that cannot be predicted that could truly wreak havoc on the roof of your home. After all, Florida is the lightning capitol of North America, so very bad things can happen rather quickly. Lightning can strike a tree and cause part of it to collapse onto the roof of your home. Even small trees can cause a lot of damage to a roof, or even the trusses. Not only does roof damage cause leaks, but they can also result in severe structural damage. Any you are subject to storm damage, you will need to have a company in to install heavy-duty, waterproof roof tarps to protect your investment. RestoPro770 is always available for emergency roof tarp installation services in Boca Raton.
Delray Beach Roof Tarp Installation Professionals
Living in The Sunshine State means that we do have to deal with the occasional tropical storm or hurricane. Whether it is a small tropical storm or a major hurricane, the wind gusts are generally strong enough to rip shingles off homes. Flying debris can even shatter tile roofs into bits and pieces. The loss of shingle or tiles can compromise the barrier keeping the rain water from leaking into your home. This could be disastrous as the heat and humidity here are perfect for the promotion of mold growth. Once you have mold, it must be remediated quickly. Any delays could cause the mold to spread. It spreads quickly because mold spores are airborne and will be deposited throughout the house. RestoPro770 offers complete roof leaking solutions in Delray Beach.
Roof Leaking Solutions in Boynton Beach
In all reality, people try to put off getting a new installed as long as they possibly can. They are expensive to be replaced, but this is maintenance that is required on any home or building. Indeed, new roofs are costly but safeguarding your biggest investment is important. Lack of maintenance will eventually result in leaking roofs and further damage to the property. RestoPro770 provides roof tarp installation, even in the event of an emergency in Boynton Beach.
Palm Beach County Emergency Roof Repairs
RestoPro770 is the company that will be there when you are faced with roof damage or a leaking roof. They understand the dire need a homeowner faces when they need roof tarp installation quickly. Call 888-466-0770 at anytime you need emergency tarp services in Boca Raton, Delray Beach or Boynton Beach.
Quote Request