Storm Damage in Boca Raton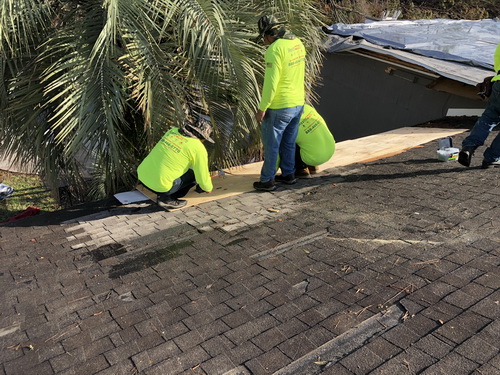 The residents of South Florida like to think that the weather here is predictable. In a small way, it is. It's common knowledge that during the winter and early spring months that it is the dry season. We deal with droughts, water restrictions, and brush fires. We know this is a reality of the area. Also, we understand the reality that we are in an area that is prime for tropical storms and hurricanes to rip through during the late spring and summer months. Though we keep out finders crossed that the tropics will go easy on us each year, the reality is that the potential for severe storms to damage our homes is there. Unfortunately, many things can damage homes and their roofs. One big thing is the wind that is associated with strong tropical systems. Wind can damage many things; however, it can really put a hurting a roof. The shingles and tiles can be blown off and the rain can saturate the plywood underlayment and begin leaking into the home. As soon as the storm has passed, this needs to be addressed by professional storm damage mitigation companies. RestoPro770 offers roof tarping services in Boca Raton.
Boynton Beach Emergency Roof Repair Tarp Services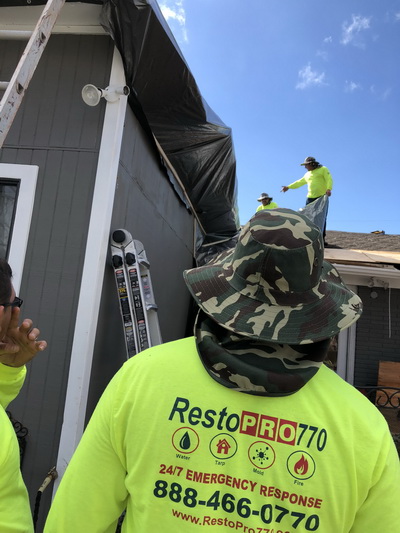 During a storm, trees can fall even if they were seemingly healthy before the hurricane. The health of the tree makes no difference when it comes to the sustained wind and wind gusts involved with a strong storm. A tree, or even a portion of a tree falling on a house can result in serious damage. The damage must be addressed as soon as possible because insurance companies expect homeowners to do all they can to mitigate their damages. RestoPro770 provides homeowners with an immediate response team for emergency roof tarping in Boynton Beach.
Roof Leaking Mitigation in Delray Beach
There is a plethora of things that can cause damage to a roof resulting in leaks. Flying debris during a storm can tear the shingles or tiles right off the plywood, leaving the home vulnerable to water leaking inside of the house. The roof leak can lead to so much more damage like mold in the attic and ceilings, wall to wall carpet damage, and even mold growth throughout the interior of the house. The leak must be stopped immediately to prevent further damage. RestoPro770 has emergency waterproof roof tarps professionals ready to help in Delray Beach.
South Florida Storm Damage Mitigation
RestoPro770 understands the stress homeowners go through when their homes were damages by a storm. They offer glass boardup services, tarp installation, and storm damage mitigation in Palm Beach County and Broward County. Call 888-466-0770 for help from the emergency response team at RestoPro770.
Quote Request