Shrink Wrap Roof Services in Cape Coral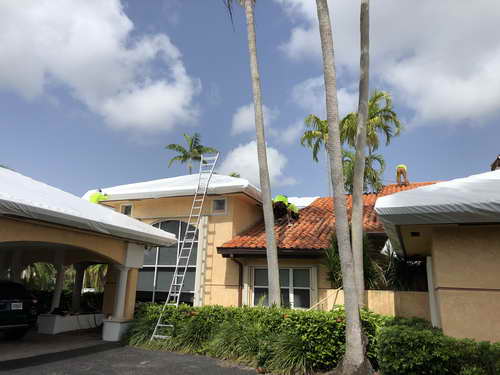 Cape Coral provides many benefits to those who choose to settle there. The cost of living in Cape Coral is low and the unemployment rate is low as well. The crime rate is low and the schools are generally good. The weather in Cape Coral is great year round and there's plenty of areas that are full of nature. Beaches are another great selling point for Cape Coral, they're everywhere and the waters are calm and clean year round which means it's always perfect for swimming, boating, and fishing.
Roof Shrink Wrap Installation in Lee County
RestoPro770 provides roof shrink wrapping services all throughout Florida. RestoPro770 always works hard and diligently to make sure that your shrink wrap is applied properly so that you're safe from further water damage for as long a period of time as possible. They want to ensure that your home is safe so they'll follow their own procedures strictly to ensure that your shrink wrap can function properly for a long period of time. Your shrink wrapping will last long enough for you to choose an option for more permanent roof repairs at your own leisure. RestoPro770 uses the highest quality tarps and equipment possible to give you the most resilient tarping available so that you're safe and sound.
Emergency Roof Shrink Wrap in Cape Coral
RestoPro770 is a very reliable choice whenever you need emergency shrink wrapping anywhere in Florida. They have 24/7 availability with fast response times so no matter when you need their services, you can get them. RestoPro770, Inc. is an IICRC certified company and an active member of the Restoration Association of Florida. You can always call RestoPro770 if you have any questions about their services you can call them, they'll provide you with information about pricing, scheduling, or anything you might want to ask them about. RestoPro770 will provide their services for any type of building, office, school, or medical. You can always trust RestoPro770 to deliver their highest quality services, no matter what you need them for.
Shrink Wrap for Leaking Roofs in Cape Coral
Call RestoPro770 at 888-466-0770 for all of your shrink wrapping needs in Cape Coral. RestoPro770 operates all throughout Florida which means no matter where you live, they can provide you with their services like emergency boardup, water damage remediation, and leak detection.
Quote Request