Roof Tarp Services in Bonita Springs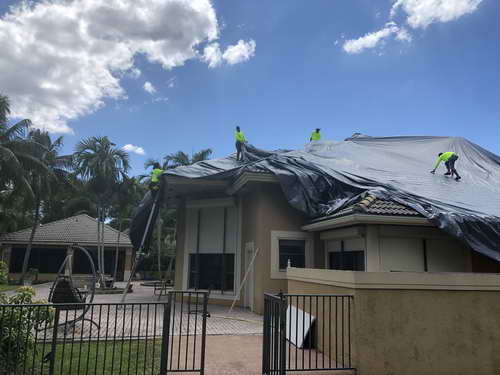 Bonita Springs has many benefits for those that choose to settle there. It's safer than 63% of cities of the same size population. The weather is consistently warm with few days of rain which makes it a perfect city for people who enjoy the outdoors, whether it be for hunting, fishing, or sports, like golf. The public schools score above average and offer plenty of opportunities for student's careers and future education. Bonita Springs also has lots of job openings of all sorts. It's a great city for retirees who want to live comfortable days outdoors.
Roof Tarp for Leaking Roofs in Lee County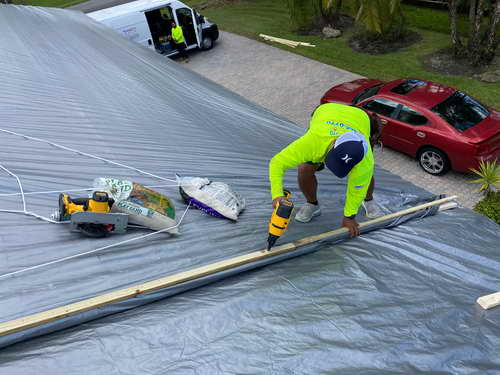 RestoPro770 offers roof tarping for leaking roofs in Lee County. They work with high quality materials and the newest state of the art technology so that you can rest easy knowing that your tarp will last as long as you need it to so that you can find a more permanent solution. They'll always work quickly so that the threat of water damage affecting the rest of your house can be eliminated as quickly as possible. RestoPro770 has 24/7 availability with fast response so that you can rest easy knowing that further leaks will be prevented as quickly as possible. Even with how fast they work, they'll never skimp on quality so that you can feel secure that their tarping is going anywhere soon. RestoPro770 can also help guide you through the paperwork that comes with their services, so you know what you're signing for and what you'll receive. They're a perfect choice for urgent situations where every minute matters.
Emergency Roof Tarping in Bonita Springs
RestoPro is always dedicated to delivering the best services possible to their customers. They are an IICRC certified company and an active member of the Restoration Association of Florida. They are always up to date with the newest and most efficient methods so that you can get the most effective treatments for your damage remediation and mitigation. They'll always make sure that you'll be happy with the services that they provide. Their technicians are highly trained and experienced so that you can rest assured that the services you requested are being done right by a person with the knowledge to deliver a high quality product. You should always immediately contact RestoPro770 whenever you need their services so that they can start working on your home as soon as possible so that you don't need to worry about the state of your home for long.
Roof Tarp Installation in Bonita Springs
Call RestoPro770 at 888-466-0770 for all your roof tarp installation needs in Bonita Springs and other areas like Broward, Miami Dade, and Palm Beach county. They also provide services like odor removal, leak detection, and mold damage remediation.
Quote Request