Heavy Duty Silver Poly Roof Tarp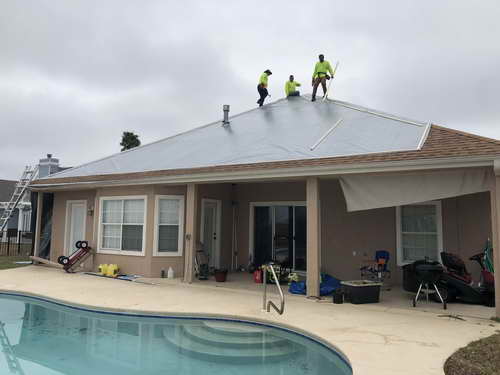 Designed to protect a property from rain, sunlight and extreme weather conditions, a roof is one of the most important components of a home. However, rough weather conditions, such as storms and hurricanes, can damage home structures, including the roof. Dealing with a damaged roof is a difficult job. It cannot be done without professional help.
Heavy Duty Roof Tarp Installation in Broward County
Home to exotic beaches and pleasant tropical weather, South Florida is a fantastic holiday destination. The beautiful sunny days and relaxing nights by the sea make this place loved by the residents as well as visitors. Amidst all the fun, South Florida experiences some of the worst hurricanes, which can damage roof shingles. When the shingles go missing, rainwater can easily find its way inside properties. The best way to deal with the post-hurricane damage is through roof tarping. RestoPro770 provides the best roof tarping services in Broward County.
Silver Poly Roof Tarp Services in Broward County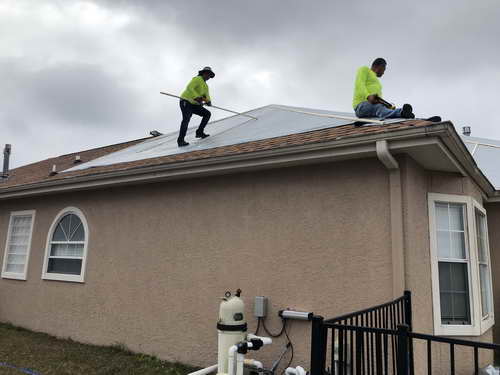 After a storm, roofs can get damaged. They start to leak and allow the rainwater to enter houses. The constant exposure to rainwater can affect the interior design as well as the home appliances. It can also be detrimental to the health of the people who reside in that particular place. In order to deal with the post-hurricane leakage, RestoPro770 provides the most effective roof tarp services in Broward County.
Heavy Duty Roof Tarping in Broward County
During a hurricane, strong winds are not the only thing that can damage roofs. Heavy objects can collide with the roof during a heavy storm. These objects include, flying tree branches, umbrellas and other heavy objects that the winds bring with them. The roof cannot be left untreated once the storm is over. This is because further damage can occur. Immediate measures need to be taken to address this situation. Installing a heavy duty roof tarp is a quick fix when dealing with a damaged roof. RestoPro770 provides the homeowners in Broward County with excellent roof tarping services to protect their roofs from further damage.
Shrink Wrap Roof Tarping in South Florida
Restopro770 is an IICRC certified restoration company. They understand the frustration and anxiety homeowners go through when their roofs get damaged during a storm. Restopro770 provides top-of-the-line heavy duty silver poly roof tarping and shrink wrapping services in South Florida. Call 888-466-0770 for emergency heavy duty roof tarp services.
Quote Request