Roof Tarp Services in Marco Island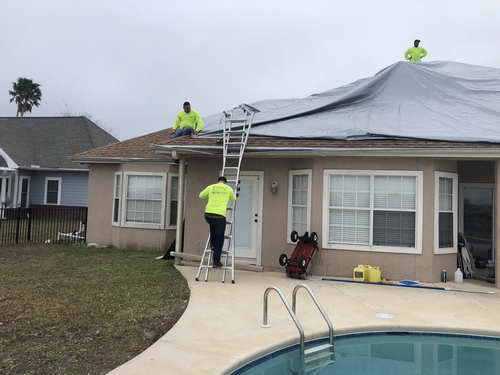 Marco Island has many great features that are provided to people who live there. The average crime rate is 72% lower than the national average, with the violent crime rate being 76% lower than the national average. Marco Island's job market is growing with a 4% unemployment rate. Marco Island also has decent schools with more 36 million dollars in scholarship funds awarded to students from 202-2021. They offer arts and music opportunities at all levels, and high ranking sports teams on all levels. 11,000 students out of 48,000 students are enrolled career and technical courses.
Emergency Roof Tarping in Collier County
RestoPro770 provides high quality emergency roof tarping services in Collier County and surrounding areas. No matter how your roof has been damaged, whether it be from a fire, storm, or tree, RestoPro770 will make sure that they get your roof tarped as quickly as possible so that you don't have to worry about further water damage occurring and spreading to the rest of your home. RestoPro will never sacrifice quality for speed, they will always make sure that they properly and safely install your tarp so that it can give the highest protection that it can as quickly as possible. They work with high quality materials and machinery so that you can be reassured that your tarp provides you with protection for however long you need it to so that you can make more permanent repairs to your roof. RestoPro770 has 24/7 availability with fast response times so make sure that you call them as soon as roof damage has been made apparent.
Roof Tarp Installation in Marco Island
RestoPro770 is a very dependable choice whenever you are in need of a service that they provide. They are an IICRC certified company and an active member of the Restoration Association of Florida. Their technicians are highly trained and experienced so you can rest assured that you're in good hands whenever you choose RestoPro770. RestoPro770's technicians use state of the art equipment and the safest and most efficient techniques to provide you with the highest quality final product possible. With their experience, their technicians can find the root of whatever damage your homme may be experiencing, and can work out the best solution for you and your home. RestoPro770 puts care into every job to ensure that your problem is solved the first time so that there's no need for worry about faulty repairs.
Roof Tarp for Leaking Roofs in Marco Island
Call RestoPro770 at 888-466-0770 for all of your roof tarping needs in Marco Island. They also operate in other locations like Fort Lauderdale, West Palm Beach, and Hallandale Beach. RestoPro770 also provides leak detection, emergency boardup, and attic insulation removal services.
Quote Request