Roof Tarping Services in Weston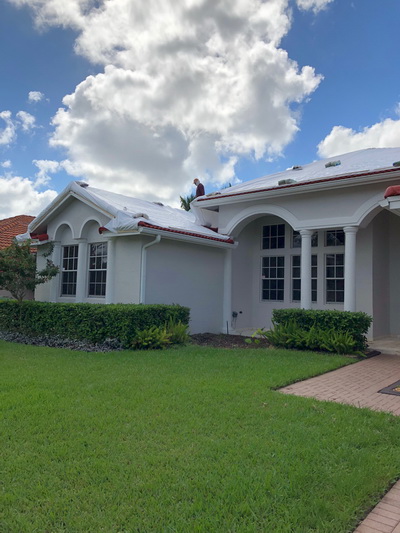 The clear majority of homeowners in South Florida do all that they can to ensure that their homes and yards are in pristine condition. A home is generally the largest investment a person will make in his or her life, so homeowners want to keep it looking neat, tidy, and attractive to passersby. They ensure their lawns are mowed and edged; trees and plants are trimmed and shaped; and the paint on the house is clean and fresh. Unfortunately, the one thing that very few homeowners pay any attention to is the roof. The roof is one of the most important aspects of the home itself, yet it often goes ignored until there is a problem with it. Although annual maintenance of the roof is tantamount for extending its life, all too many people fail to do it. For this reason, they are completely shocked when the go home to find water coming in through the ceiling. RestoPro770 offers emergency roof repair tarp services in Weston.
Parkland Waterproof Roof Tarps
South Florida is the target for many tropical storms and hurricanes from June through November. Of course, there other non-tropical storms that blow up throughout the area too. Any of these storms can produce wind gusts that are strong enough to blow the shingles right off the roof, or even shatter roof tiles. Missing shingles or broken tiles can seriously compromise the entire roof structure. Water can penetrate the tar paper, damage the wood sheathing, weaken the trusses, and cause mold to grow on the structure. Even more so, the water will eventually make its way to and through the insulation, ceiling and then to your floors. Getting a roof tarp installed quickly is essential to mitigating further damage. RestoPro770 is available to help when you need quick tarp installation services in Parkland.
Tarp Installation Services in Davie and Cooper City
While a homeowner may take great care of his or her own property, that doesn't necessarily mean that the neighboring properties do so as well. Oftentimes, people tend to put off trimming their trees or having diseased or dying trees removed in a timely fashion. Mainly, they put these things off because they are costly to have done, even though they put the neighbors' homes and property at risk. If a branch, limb, or a tree itself damages a roof, a tarp needs to be installed immediately. RestoPro770 provides roof leaking solutions in Cooper City and Davie.
Emergency Roof Repair Tarp in South Florida
RestoPro770 is one of the premiere companies for residential emergency boardup and roof tarping services in Broward County and Palm Beach County. They are available to assist you to remedy roof leaking problems quickly. Call 888-466-0770 for fast and reliable roof tarping services in Weston and throughout South Florida.
Quote Request