Decontamination Services in Broward County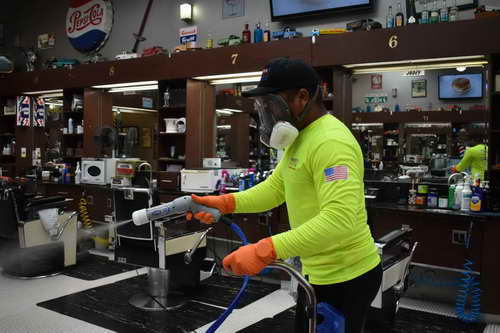 We are in a time currently, that most of us have never experienced in our lifetimes. A global pandemic is very uncommon in any generation alive today. But here we are, learning how to cope, staying socially distant, and ensuring that we keep our environment clean. Decontamination services in Broward County are one way to help with the cleanliness aspect. While there are not any EPA approved solutions that are proven to kill COVID-19, as it is a new strain, companies such as RestoPro770 are using products proven to kill similar viruses. Ensuring that your home or business is properly cleaned is one less stress.
Commercial Decontamination in Broward County
For business owners, whether you're temporarily closed or have changed your way of serving, you may choose commercial decontamination in Broward County. Hiring a company to clean with EPA approved solutions known to combat viruses similar to COVID-19, is a way to help reduce risks for your employees, customers and yourself. Everyone is concerned about flattening the curve in the spreading of this virus, keeping a clean environment and safe distancing are the two best ways to do this. It is especially important for businesses that are still in operation, even if altered operation. This way you know you are doing everything you can do for everyone to reduce risks.
Industrial Decontamination in Broward County
As with all decontamination services, in industrial decontamination in Broward County, staff or techs should be in full personal protective gear with all necessary and required safety equipment. Restopro770 ensures that our employees and families are safe during their jobs, this reduces their own risk as well as the risk of spreading any virus to those around them, or even leaving any contamination in your building. Abiding by processes and procedures keeps risks as low as possible and gives you more peace of mind.
Virus Decontamination Services in Broward County
No matter who or where you are, what type of space you may be concerned about, virus decontamination services in Broward County, can help you feel safer. There has been much fear and stress about this COVID-19 virus, some extreme, but there is a definite reason to be vigilant. Flattening the curve of contamination allows the pandemic to slow, and not overwhelm services in the community. If we are all doing our part to reduce risk, without extreme emotions, we will get through this uncertain time.
RestoPro770 is working very hard to serve their customers and communities in these trying times, we want everyone to stay as safe as possible. We are currently offering decontamination services in Broward, Miami Dade, and Palm Beach Counties. Currently there are no EPA registered products which can make a specific claim to be effective against this new COVID-19 virus. RestoPro770 is using EPA approved solutions known to be effective against other similar viruses, such as Human Coronavirus, SARS associated Coronavirus, Porcine Respiratory, Rotavirus. Our professional staff will use full protective measures during all decontamination. Call with any questions, 888-466-0770 our staff is more than happy to help you understand what we can offer.
RestoPro770 uses UltraSnap ATP Surface and Water Damage Testing before and after sanitizing and disinfecting jobs. ATP testing results indicate whether a surface needs to be sanitized. Call 888-466-0770 to schedule testing at your home or business.
Quote Request