Roof Tarp Installation in Sanibel Island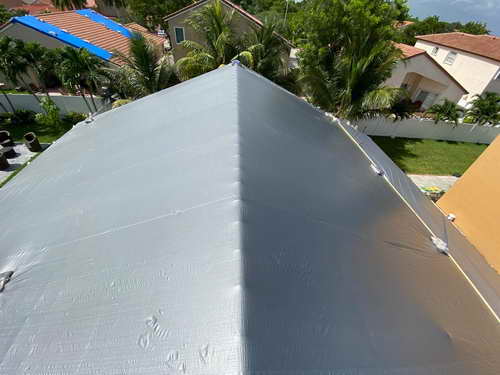 When you need a roof tarp services in Sanibel Island, your priority is to choose a company that has experience and professionalism. Sometimes during severe weather events fly by night companies or "contractors" pop up just trying to make a buck, they are not reliable and will not have guarantees or warranty on their workmanship. Shoddy work or unprofessional contractors can cost you dearly in the long run. There are many horror stories of dishonest contractors scamming people during high-stress times. Work that is not up to par can create more damage, or you may pay upfront for work that never gets completed.
Roof Damage Tarp Services in Sanibel Island
If you require emergency roof shrink wrap in Sanibel Island, it is wise to speak with a few different companies to ensure the best fit for your situation. Obviously, you are in an emergent and stressful time and time is of the essence. But not taking this bit of extra caution could cost you dearly later down the road. If the company is not reputable or does not have insurance or warranty their work, you could get stuck with much higher repair costs or other damages later.
Roof Tarp Services in Lee County
Shrink wrap roof services in Lee County will help reduce damages inside your home and the rest of your roof. Shrink wrap has several benefits because it remediates the source of water coming into the structure. This allows you to assess damages and create a plan of action, work on interior damages before you repair the roof. When there are storms, flooding, or other weather issues a roof shrink wrap installation also will reduce further damages until you can begin assessment and repair. When choosing a shrink wrap installation company, ensure that they are experienced and professional so that there is no further damage, and you are covered by a solid warranty.
Roof Covering Services in Sanibel Island
Many people are not aware of what roof shrink wrap for leaking roofs in Sanibel Island does for your situation. It is not just for old falling apart houses. It is also for leaking roofs to prevent interior damage while you are still living in the home completing other work. Roof shrink wrap gives you time to assess the damages and create a repair plan of action. Whenever you have a leaking roof, it is urgent to stop the leaking, that is what a shrink wrap will do initially, but it can also save you expenses in the long run and allow you to continue your day-to-day routine.
Here at RestoPro770, our professional staff would love to speak with you, call us at 888-466-0770 for any questions about our services and locations. Our fully trained and experienced personnel will take care of all your leak issues, roof tarp services, shrink wrap installations, and any other water damage you may encounter. We offer our services in Sanibel Island, Lee County and surrounding areas.
Quote Request