Shrink Wrap Roof in Fort Myers Beach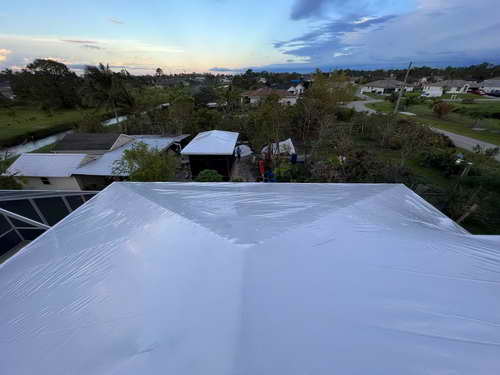 There are so many reasons why people love living in beautiful Florida. There's the glorious sunshine and ocean breezes, as well as all of the fantastic water activities that go along with them. The only drawback of living in the area is the six-month long hurricane season. It's something that everyone must be mindful of, as we've learned that storms can change their tracks quickly, even surprising the meteorologists. People must do all that they can to protect their homes from being damaged. Most put up their storm shutters and stow everything movable from the outdoors into the garage. The only thing that truly cannot be protected from the wind is the roof. Even though homes are constructed according to stringent safety codes, shingles and tiles can still blow off or become damaged. This can result in water damage to your attic and living space of the home, so it must be addressed quickly. RestoPro770 provides quality roof leak solutions in Fort Myers Beach.
Emergency Roof Shrink Wrap in Fort Myers Beach
While most people in Fort Myers Beach keep their lawns and properties in great condition, there are some who completely ignore having their trees trimmed or dead trees removed and disposed of properly. Even a minor storm can cause a dead or dying tree over onto a neighboring home. Branches can easily be stripped from the tree and scrape across roofs resulting in broken roof tiles or damaged shingles. It's of the utmost importance that the roof be tarped or shrink wrapped as soon as possible. RestoPro770 offers roof shrink wrap installation throughout Lee County.
Roof Covering Services in Lee County
When it comes to protecting your property from the harsh elements, especially in areas like Fort Myers Beach, a reliable roof shrink wrap installation is essential. If you want the job done right, it's crucial to hire the professionals who have the expertise and experience in this specialized field. Expert roof shrink wrap installation in Fort Myers Beach ensures that your roof receives the utmost care and attention, resulting in a durable and long-lasting solution. These professionals possess in-depth knowledge of the materials, techniques, and safety protocols required for a successful installation. They have access to high-quality shrink wrap materials and cutting-edge equipment to ensure a precise and secure application. By entrusting your roof shrink wrap installation to the pros, you can have peace of mind knowing that your property is well-protected, and its value is preserved for years to come. Most of us immediately think of home damage as being a result of a storm; however, kids playing catch with a baseball can easily break a window or glass door in the house. Again, you simply can't leave the house open to the elements or for burglars to enter the premises. The broken glass must be boarded up and repaired. RestoPro770 can temporarily board up the broken window and do the repairs as well.
Roof Shrink Wrap Installation in Fort Myers Beach
RestoPro770 understands that sometimes homeowners are in need of immediate emergency services to protect their homes. They offer shrink wrap roof protection and roof tarping services in Lee County and West Coast Florida. Call 888-466-0770 to protect your home after damage has occurred.
Quote Request