Roof Tarp Services in Winter Haven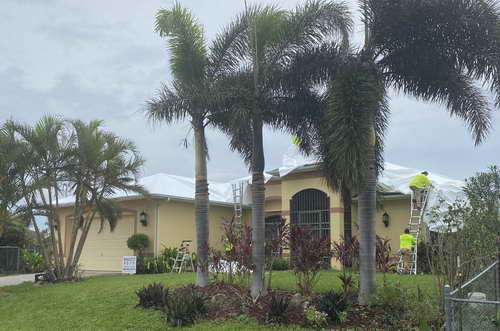 Hurricane Ian slammed into the Gulf Coast of Florida making landfall in Central Florida and passing through the Winter Haven area as a Category 4 hurricane. The damage was heavy to many homes and commercial businesses. After the storm went through there were countless homes that were either destroyed or had some type of roof damage. Fortunately for homeowners and businesses with roof damage, there are companies like RestoPro770 that specialize in installing tarps and shrink-wrapping systems.
RestoPro770 is one of the companies that offer Roof Tarp Services to homeowners and commercial building owners. For the tarps to be effective, they must be installed properly. Their installers are highly trained in all of the techniques required to install the tarps correctly.
Shrink-Wrapped Roofs in Winter Haven
While tarps have been used for decades by companies that specialize in mitigating damage after storms, there is an innovation that provides an extra level of protection. The blue polyester tarps are ultra-durable and when installed properly provide wind and water proofings. However, the new shrink-wrapping system uses unique materials that when installed properly provide even more durable protection.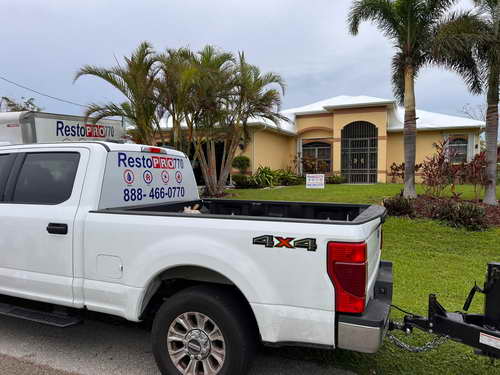 While the blue tarps can technically be installed by anyone, it requires an extensive amount of training for a person to be able to effectively install the Shrink-Wrap Roof system.
Roof Tarp Installation in Polk County
Polk County is located in the middle of Central Florida and it is one of the largest counties. Winter Haven-Lakeland makes up the majority of Polk County and the area sustained heavy storm damage as Hurricane Ian went through. Even though it's wind speed diminished from Category 4 after making landfall, the damage was still devastating for the residents of Winter Haven. Due to the heavy damage to many of the homes and commercial buildings, many of them had to have emergency roof tarps installed. Fortunately, there are companies like RestoPro770 that are experts in installing roof tarps.
Emergency Roof Tarping in Winter Haven
After Hurricane Ian went through the Winter Haven area and left a path of destruction in its wake. Homes and commercial buildings that sustained heavy damage to its roof and windows needed to have emergency repairs done. Most homeowner's insurance policies require that the insured make all attempts to prevent further damage from the elements.
The best way to accomplish this is to install large blue polyester tarps over the affected area. These tarps help to prevent any water and wind to gain access to the damaged area. These tarps have to be installed in a specific way to keep them in place once they are properly installed.
Call RestoPro770 at 888-466-0770 for roof tarp installation in Winter Haven. RestoPro770 also offers water damage remediation, mold removal and leak detection services in the Central Florida area, including locations like Polk County, Orange County, and Osceola County.
Quote Request